The Evolutionary Shopper |
What They're Doing Now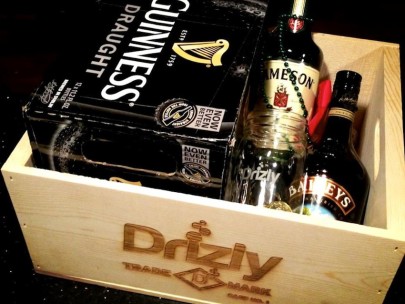 Young, Gifted, and Drunk: How the Thirst for Alcohol has Made Millenials a Target for Delivery Apps
If you're a busy Millenial, or like to think of yourself as one, then you simply don't have time to do anything yourself.
No wait: scratch that. You don't NEED to do things yourself. Today's modern world is all about supporting enterprising startups that allow you to remain the Peter Pan that you are and be forever young and unfettered to such mundane chores like cooking, cleaning, or shopping.
Lately, that trend has gone into high gear with a bevy of apps designed to help the work-hard-play-harder techie get their drink on with ease.
Say hello to Drizly, Minibar, Drinkfly, Thirstie, Saucey, and Klink, all more than ready to serve the apparently constant need these geniuses have for alcohol. It's amazing that there's this much venture capital available for such an unoriginal idea, but like a Fuzzy Navel, a booze app makes you feel giddy and young, a Don Draper for the digital age.
 
Speaking their language: Like the other apps, MiniBar uses the ironic tone of voice that has become derigeur for virtually anything targeting millenials.
While the names are lame that hardly matters to a crowd that has the energy to party just about every night of the week — just ask my neighbors. Who knew that laziness, entitlement, and alcoholism would be such a potent business opportunity?
You'd think with such a crowded playing field that it would be harder and harder to find a profit margin here. Margins for liquor are generally pretty lean: 40-percent for wine, 30-percent for beer, and 20-percent for liquor. So if there's no membership fee or markup for the consumer, who pays?
The liquor stores.
That's because these booze apps act as third party marketing businesses for the liquor companies, and using local merchants to source their alcohol — all they have to do is deliver it and check an ID. No inventory. No actual investment in merchandise. Just delivery.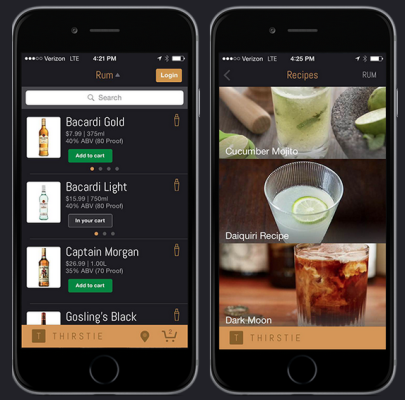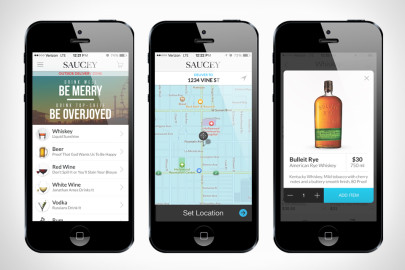 For the most part, it's hard to tell any of the apps apart from one another, which may be the point. Like so many startups, the flavor of the week is determined largely by how much buzz they can generate through events and discounts.
So far, liquor stores are willing to play the game. One store, for example, can easily take in $1-2,000 a month just through one service. Now add two or three more and you can see the value.
Thirstie is making perhaps the biggest strides of all the services reporting 50-percent growth month to month and with an average order size of $65. They expect revenue to jump from $1.5M to $2M this year. They recently added Chicago, LA, Miami, and San Francisco to their roster of cities.
Slow to the punch (as always) is Amazon that has done little to target-market this segment of consumers, with alcohol just part of its already existing Amazon Fresh delivery service (only in New York, Seattle, and select regions of California.)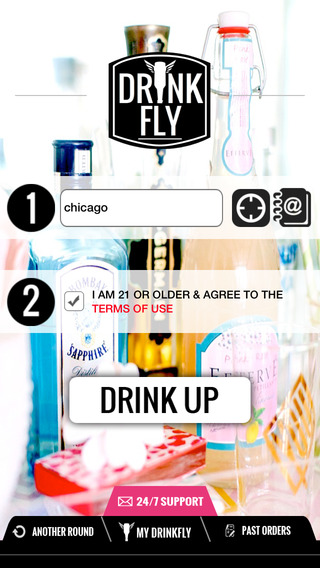 Drinkfly has the option to search local stores for specific liquor or specific prices, and features a convenient "another round" key.
Of course, it's pretty obvious that not all of these companies are going to be around for long. For one thing, not one of them is terribly memorable and our unscientific test of three of them didn't reveal any difference in price or speed.
In the meantime, we see an opportunity– no joke – for an Alcoholics Anonymous App, and even a car service app — such as we've seen in Korea — where clients can be driven home in their own car by a licensed driver, rather than take a cab and then hunt down their car the next day. I'll drink to that.
Related posts: