THE EVOLUTIONARY SHOPPER |
WHAT THEY'RE DOING NOW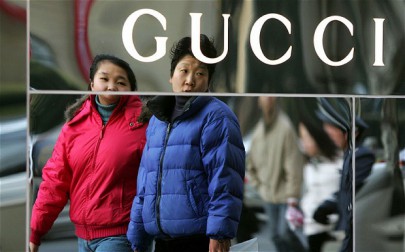 Why Retailers Aren't Prepared for the Chinese Tourist — And How They Can Be
Chinese New Year — the Year of the Snake, for those who care — begins on February 10 and finally at least one major U.S. retailer is waking up to the fact that they need a strategy in welcoming the Chinese tourist – and not just once a year.
Last year we told you about how we developed some relatively simple strategies for b. on brand client Saks Fifth Avenue in making their San Francisco store more attractive to Chinese tourists, with specific programs and mechanics.
In London, Chinese tourists take advantage of a relatively easier visa application process and spending on average a $1000 a day.
According to the U.S. Commerce Department, the average Chinese tourist spends about $6,000 while in the United States; yet most major retailers are sadly unprepared for what is increasingly becoming a critical customer market – even outside the CNY period.
Currently nearly all Chinese tourists are forced to wait up to four months compared to only a few days for most European visas, which means cities like Paris profit handsomely from Chinese tourist dollars.  This month President Obama gave the State Department 60 days to come up with a way to decrease the wait time for visas to three weeks.  That's still far more than say Great Britain, which, while also bureaucratic takes about five days to turn around a visa.
Paris is still a top destination for Chinese tourists. For decades stores like Galleries Lafayette and Printemps have made major efforts to target Chinese customers with an army of Chinese-speaking sales associates, discount packages, and special open hours.
This year it is expected that 1.4million Chinese (along with a million Brazilians) will come to the U.S. to shop.
In New York, Bloomingdale's launched a new initiative to make its store more approachable to the Chinese tourist by hiring more bilingual staff, marketing overseas with advertising campaigns, and increasing orders of iconic "American" brands like Ralph Lauren, with an emphasis on bold brand logos.
Still, one has to wonder why more stores haven't made a bigger effort at understanding the Chinese customer and making some relatively cost-effective additions to their store experience in order to welcome them.
Here are a few things that nearly any medium to large-scale brand can do to make their store a destination for Chinese shoppers – all year around.
1)    Signage. Make sure there is prominent signage in simplified Chinese at the entrance to the store. This includes store navigation. During the Chinese New Year period, put Chinese signage in the window and make sure visual merchandising themes are translated.
2)    Speak Their Language. Have at least one employee who speaks Mandarin fluently and empower them with discount cards and/or Gifts-With-Purchase to incentivize them to shop.
3)    Make them a VIP. Use the store's member's lounge or create a space where Chinese tourists can sit privately with a cup of tea, cookies, and receive one-on-one clienteling.
4)    Partner with Hotels. Work closely with the concierges at the city's key hotels and give them brochures and VIP cards to give to Chinese tourists and tour operators.
5)    Explain the Value of Your Brand. The Chinese are still unfamiliar with many U.S. brands especially department stores. Make sure to tell your heritage story and underscore the fact that all of the brands you carry are guaranteed authentic. In China, some department stores sell fake or look-alike merchandise.
Related posts: