The Evolutionary Shopper |
What They're Doing Now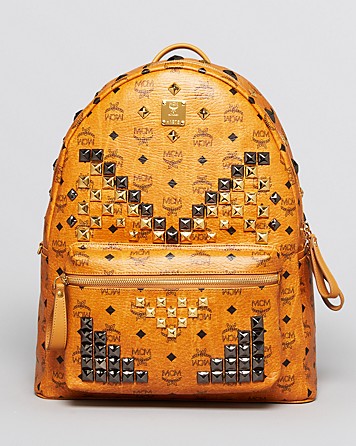 When Your Own Initial's Aren't Enough: 80's Brand MCM Appeals to a New Generation
If you were a child of the 1980's you probably winced whenever you saw someone with logo luggage. They seemed so old or worse, nouveau riche. Nothing screamed that more than MCM, which always felt like the poor man's Louis Vuitton. That baby diarrhea brown, the thick vinyl, and those enormous logos were so overtly vulgar you just had to turn away. Nothing said 1980's more than Dynasty, and Linda  Evans, as Crystal Carrington, is seen arriving at a hotel with a truckload of MCM.
But that was then. The fashion world is always nostalgic about itself and its past that is why there is a constant grave digging going on in the cemetery of dead brands. Entrepreneur Arnaud de Lummen has built an entire business out of resuscitating so-called "sleeping beauties," brands like Vionnet, Paul Poiret, and Goyard.
But MCM? Well no, that's not one he pounced on, but in 2005, South Korea's Sungjoo did and is on its way to making MCM the uber-luxury brand for the modern millennial. For the moment that millennial has mostly been Chinese, Japanese, and Korean, but the mania over the brand is now spilling into Europe and the U.S.
What's the appeal?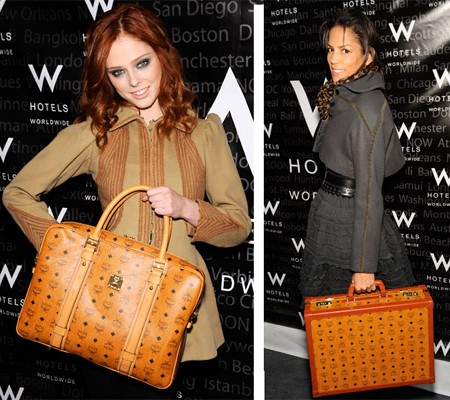 South Korean owned-MCM has cannily been able to get into the right hands of Western celebrities including Beyonce (below). Since 2005 the brand has shown steady year-to-year growth with a generation that has begun to shy away from traditional luxury brands.
It's retro nouveau riche quality and the fact that it isn't Vuitton, for one. And also that for an entirely new generation, MCM seems so trashy-chic, so ironically vulgar: think Miley Cyrus. It's also the fact that in a short amount of time, the brand has managed to get into the right hands of influencers – the right influencers.
The brand, which was launched in 1976 by a German named Michael Cromer (thus, Michael Cromer München) had its heyday in mid-80's with 250 stores and big lavish advertising featuring Cindy Crawford in Herb Ritts-lensed advertising. Diana Ross traveled with it on tour. So did Siegfried and Roy. Now you get the picture.
But who remembers that? The brand is already on a fast-track to being a must-have for anyone who watches reality television or downloaded Taylor Swift's 1989. South Korean pop star Rain fronts the brand and the usual suspects (Rihanna, Beyoncé, Ludacris) have all been photographed carrying the brand's iconic backpack – the best seller.
 

Back in the day: Linda Evans arrives in style in an episode of Dynasty. No other piece of pop culture demonstrated the beautiful excess of the 1980's, and MCM was front and center — except here.
A glance to the street reveals mostly fashion kids and students carrying MCM, but don't let that fool you in thinking the brand is a bargain. A tote will run you close to $2300, while a messenger bag costs $500. It's a sweet spot because they still manage to undercut their competitors.
In 2011 the brand hit a reported $400m in sales, and then jumped to $500m in 2013. A stock market launch projecting sales of $1.5m is rumored to be on the horizon, but for now the goal is big growth, this time outside of Asia, which contributes to roughly a third of the brand's growth. Last month the brand scored boutique space in Harrods, with an additional store planned early next year.
 
More is Never Enough: At top, a special edition MCM x Craig and Karl backpack, while below, South Korean pop star Rain reclines on a mound of the brand's luggage.
But wait – a brand without a story? A luxury brand has to have a story, right?
Unlike Hermès or even Vuitton, this is a brand with no story and that's just fine for today's young consumer. While my colleagues in the branding world might admonish any brand for skimping on story, I think there are always examples of brands that have none and do just fine. MCM is about association, an association with a brief period of time that's still on-trend – the 80's — and the way that brand overtly mimics traditional luxury brands.
Related posts: