Notes From Abroad |
Tracking Global Retail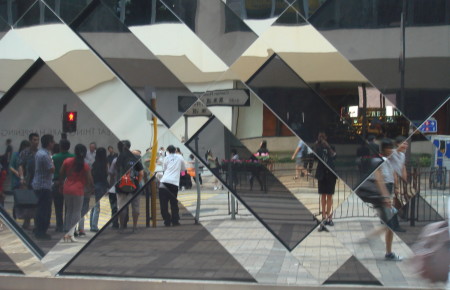 Is the U.S. Ready for the Chinese Shopper? Hong Kong Offers Glimpse of What's To Come
This week marks the official beginning of China's National Holiday, one of the biggest travel periods for the Chinese and a time when Hong Kong in particular becomes a major target for mainland tourists. Dubbed by HK retailers as "Golden Week" (guess why), it has grown into an all-out phenomenon of manic Chinese consumerism as thousands flock to the city and literally shop until they drop.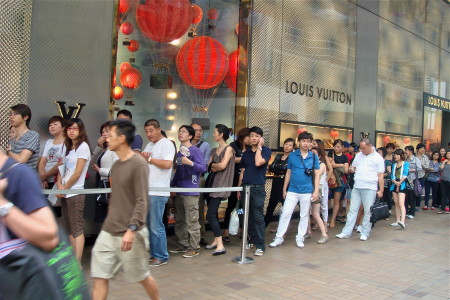 Shoppers queue up outside the Louis Vuitton store on Canton Road. 
Why Hong Kong? Mainland China's regulated economy includes taxing foreign goods as high as 50 percent (but generally 30-40 percent), which means luxury stores in on the Mainland become just a place to kick the tires before consumers make the trek to Hong Kong for the big purchase. But recent studies have shown that Mainland Chinese are increasingly become more confident in traveling abroad, and with soon-to-be relaxed visa restrictions, the numbers of tourists visiting — and shopping — the United States will likely triple in number by 2013.
A recent study from the CLSA, a brokerage and investment group, suggests that the PRC will account for 44-percent of global luxury sales by 2020 and reach that level through an annual growth rate of 23-percent. Certainly nothing to sneeze at, which is why Hong Kong retailers have unabashedly begun to tailor their operations to servicing the mainland customer.
Rolling Out the Red Carpet
Case in point, Lane Crawford, the uber-luxury department store which several years ago, rebranded itself from dowdy to deluxe, has steadily resigned itself to making the mainlander their primary target. However, that was not always the case.
As recently as 2006, the brand went to considerable lengths to distance itself from its local Chinese heritage with complicated visual merchandising "installations" and advertising campaigns featuring Caucasian models. For the most part, signage and printed collaterals were in English and had a distinctly Western tone of voice.
Now that is changed. For more than a year, the brand's advertising has featured Chinese celebrities and models, and their most recent campaign showcases highly stylized Chinese models that look decidedly….er… mainland. Truth is, it's about time luxury brands bagged the white-washed approach of using caucasian models and hire some of the fabulous faces available in China: Liu Wen, Fei Fei Sun, Shu-Pei Quin, and Lily Zhi are just a few who have shot to stardom and are featured in Lane Crawford's campaign.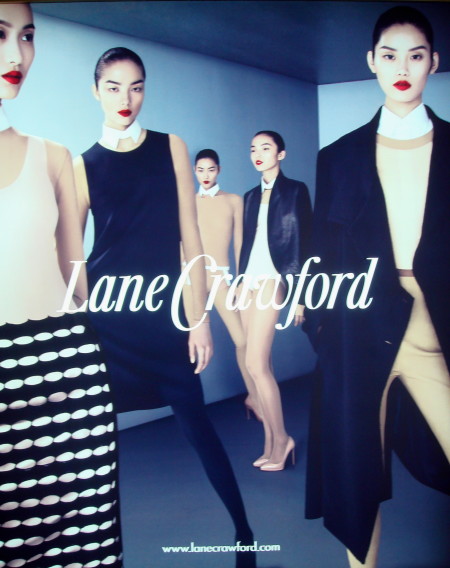 A subway lightbox display for Lane Crawford department store. It was only recently that the brand began using Chinese models in its campaigns.
At Lane Crawford's IFC flagship, an entire section once allocated to small leather goods and accessories has become a luggage center — since it is not unusual for mainland shoppers to buy suitcases in which to store their purchases. On a recent Wednesday at Kowloon's Harbour City, the mall corridors were crowded with shoppers carting large roller suitcases in which to carry their treasures.
Some skip the suitcases altogether and are buying apartments in Hong Kong, —- one of the most expensive cities in the world. Hong Kong real estate developers have begun creating commercial projects created expressly for the mainland customer. Outside subway stations and malls, young men in suits hawk colorful photos of apartments for sale.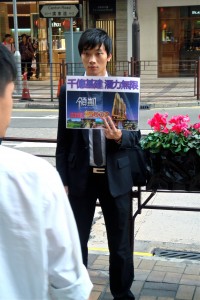 Outside a luxury store on Canton Road, a young man promotes a new housing development designed to appeal to mainland China shoppers looking to purchase a pied-à-terre in Hong Kong.
An Endless Hunger
With such exponential wealth being earned — China boasts an ever growing number of billionaires, that number doubling in two years to 271, second to the United States — it's no wonder they're looking for ways to show off. Last year alone, Chinese consumers shelled out $US 9.4billion for luxury goods, coming in second behind the United States. Which is why brands are investing heavily into expanding their retail reach into second and third tier cities. Burberry will expand its China network from 57 to 100 stores in the next three to four years, while Roberto Cavalli — hardly a household name in China — is set to add 85 stores in a deal with Shanghai's UCCAL group.
For it's part, Lane Crawford, which opened it's first major China flagship in Beijing in 2007 (after some feeble attempts at licensed stores), boasts that it will add three more stores in China starting next year, with a second store in Beijing, a store in Chengdu, and a massive 14,000 meter flagship in Shanghai.
On a recent Friday night in the always- bustling Tsim Sha Tsui, lines stretch down the street in front of Chanel, Louis Vuitton, Gucci, Hermes and Cartier — with a second Cartier store just around the corner. By 10 P.M., the lines have barely diminished nor has the energy of those who waited somewhat impatiently for their turn to enter the store. An exhausted family — parents with their son and daughter — sit on the ground in front of Gucci, surrounded by shopping bags, while nearby,  a woman struggles with stuffing yet another purchase into her overfull suitcase.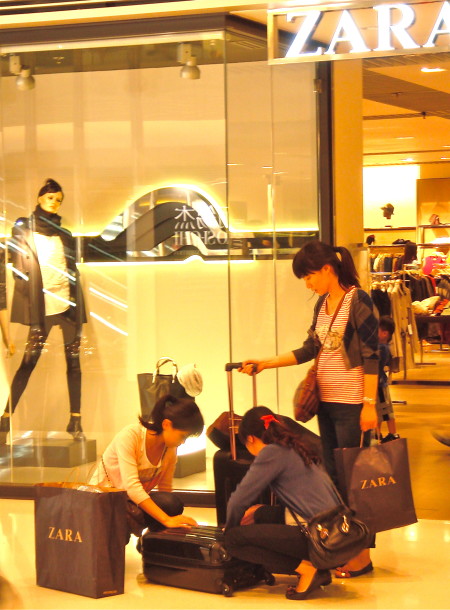 A group of shoppers stuff their recent purchases into an empty suitcase they brought specifically for this purpose.
And it's not just the big foreign names who are profiting. Local Hong Kong jewelers like Luk Fook and Chow Sang Sang (among others) are crowded with shoppers buying mostly gold and jade pieces. Mainlanders tend to believe that these jewelers will have higher quality gold than what they would find at home, and these venerable HK retailers are respected by Mainlanders, often more than foreign jewelery brands.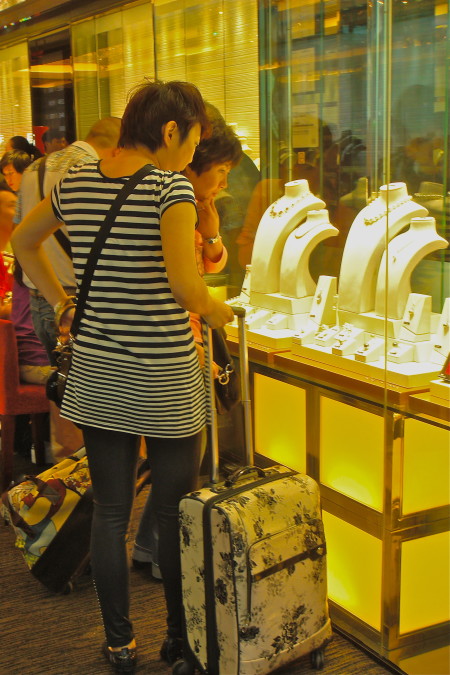 Two women contemplate some jewelry in shop display. Many come to Hong Kong specifically to purchase such pieces at prices well below what they are on the mainland.
This manic shopping behavior isn't simply an act of making up for lost time — although that certainly is a factor when you consider China's twentieth-century history. The symbolism and psychology of gift-giving in Chinese culture means that many of these purchases will become tokens of respect for in-laws, bosses, or for those one needs to impress for the purposes of guanxi — influential connections — potentially opening the golden doors of opportunity and power.
The Big Apple in Hong Kong
Hong Kong is still the benchmark for retail operations in Asia, with some of the best examples of branded experiences available in the world. That said, challenges persist in motivating employees and ensuring consistency in service and product knowledge. At last Saturday's opening of Hong Kong's first Apple store at the IFC mall, that didn't seem to be much of a problem — but then, this is Apple.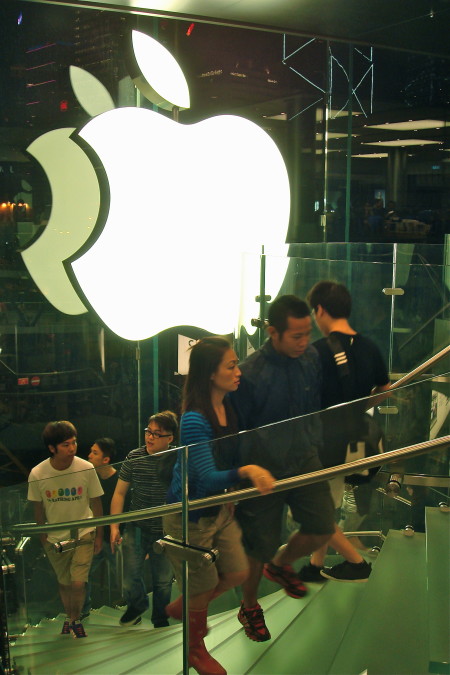 One of the most important retail openings in Hong Kong was the Apple Store in the IFC center. A booklet promotes "one to one" customer service and features a Chinese sales associate.
The glittering store was brimming with blue-shirted staff, with a surprisingly high ratio of employees to customers. That apparently is intentional, with a brochure boasting of  "One to One" services including "Personal Setup," "Personal Training, "and  "Personal Projects." Sounds pretty personal to me.
Customers eagerly tried out merchandise and an enormous Genius Bar was swamped with consultations. "I don't want to buy anything, I actually have everything already. I just want to feel the experience," said  27-year old Henry Men Youngfan, to a reporter from the Washington Post. He traveled from Beijing just to see the store.
Apple has five stores in China and plans for 25 more by 2012. The Hong Kong store is strategic in positioning the brand and its technology towards a customer who is generally more apt to buy a PC than a Mac. But all that will most likely change.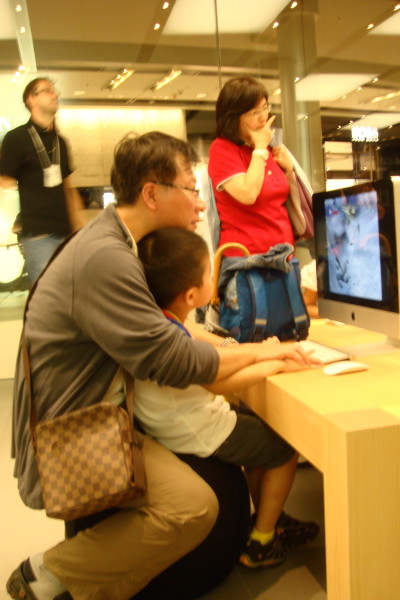 Just as in the U.S.. the Apple store in Hong Kong is where families can discover technology together in an atmosphere that invites customers to linger.
The U.S. Challenge: Getting Ready for the Deluge

However, the challenge continues to be how to get the Chinese shopper to shop at home rather than just in Hong Kong.  According to shoppers we spoke to, the allure of Hong Kong is not only the considerable discount on products but also the level of service. Indeed service continues to be the Achilles Heel of most luxury retailers in China. There is the story of a Louis Vuitton executive who, in the early 1990's, walked into the first LV store in Beijing's Peninsula Hotel, only to discover the sales staff eating their lunch on the display cases.
The U.S. Commerce Department reported that Chinese tourists spent $5billion in the U.S. last year, up 30-percent over the previous year. Despite the major obstacle to obtaining visas, 802,000 Chinese visited the U.S. last year — more than four times the number who visited in 2003.
So why aren't retailers here doing anything about it? Good question. In France, department stores like Galleries Lafayette have signage in Chinese as well as dedicated staffers to handle Chinese groups and individuals, but U.S. stores are curiously devoid of any programs. Nevertheless, that's changing. The fact is, Chinese visitors spend roughly $6,000 per person when they shop in the U.S. — more than twice that of say, people from the United Kingdom. "You look at Printemps or Harrods and 30 to 35 percent of the business is Chinese tourists," says Saks CEO Stephen Sandove in a recent WWD interview. "It's unbelievable … I'd like to see visa issues eased up so they'll come here." The typical Chinese tourist had to wait up to two months to receive a visa to the U.S. Retail lobbyists and hospitality professionals are working hard to change that.
b. on brand is currently advising Saks Fifth Avenue's San Francisco store with a pilot program for this year's Chinese National Holiday featuring custom window signage, advertorials in Chinese language magazines, discount cards and gifts, and designated Mandarin-speaking staffers at the ready.
It should be noted, though, that a China program should not be just a once-a-year marketing activity, and with forecast growth in Mainland Chinese shoppers, more and more retailers will need to commit marketing dollars to customized programs designed to support this growing consumer market.
Related posts: