Notes From Abroad |
Tracking Global Retail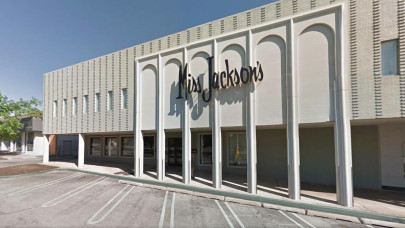 In Tulsa, It's Goodbye to Miss Jackson's, a 105-year Old Retail Institution
If you're not from Tulsa then chances are you would have never heard of Miss Jackson's, a store that, in the words of one Tulsan we met, "was our little secret." This Tulsa secret had miraculously survived for over a hundred years – that is, until now.
Rumors had circulated since last summer that the institution would be closing for good. Just before Christmas, the truth was disclosed on the store's website.
What kills the independent luxury retailer?
Perhaps Miss Jackson's was too much of a secret, and as has happened to other iconic stores (most notably I. Magnin and more recently, Wilkes Bashford — which was saved at the 11th hour), it became victim to investors who had no real intention of keeping it in their portfolio. The store did not evolve or keep up with changing demographics and tastes. The truth is, stores like Miss Jackson's simply can't compete with larger chains like Nordstrom or Neiman Marcus.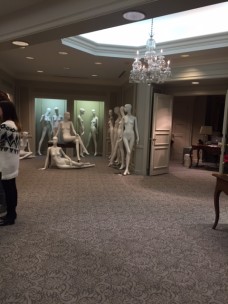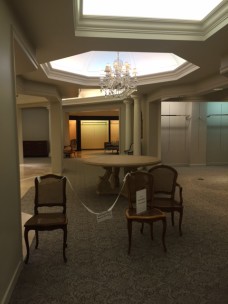 Immediately following Christmas, the store had already begun consolidating merchandise and closing off floors.
Nevertheless, a generation of women speak of Miss Jackson's in reverent tones. "They made you feel like a princess," says Beverly Anderson, a business consultant who was born and raised in Tulsa.
She began shopping at the store over forty years ago with her mother. "You'd be led into a large, comfortable dressing room, given a coke or a glass of wine – always with a straw — and then someone races around the store and brings you gorgeous designer clothes to try on."
"Just such a loss," says Boofy Flint Seay, also from Tulsa. "The end of an era, the end of a glorious time we shall never see again — it literally hurts."
Like so many midwestern cities, the booming oil years have long since departed Tulsa, Oklahoma and stores like Miss Jackson's can't compete with the larger chains or fast-fashion stores.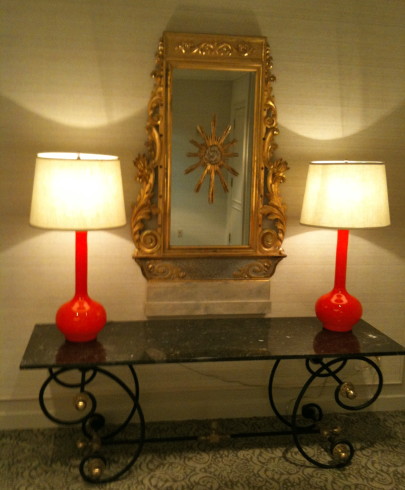 The Glory Days: Miss Jackson's epitomized the kind of residential-style boutique retailer who's signature was personalized service. "The sales staff knew us. They were like family," recalls one loyalist.
We first visited Miss Jackson's several years ago and immediately fell in love with how beautifully forgotten it was; lost in time, but in the most elegant way.
The store, located in Tulsa's upscale Utica Square Mall, could almost be a set piece for a scene from Mad Men. It's a gleaming white-brick-and-concrete ode to midcentury suburban life with manicured trees and a polished brass sign reading "Miss Jackson's" in cursive.
Inside, it's all suburban colonial, with white columns and moldings, Chinoiserie wallpaper, and brass fittings. The store has the kind of "tasteful" décor that was de rigueur with the country club set. The store experience defined why women loved it.
The Last Hurrah: for Christmas 2014 the store put together the kind of social media video they probably should have been doing a long time ago to reach the uninitiated.
Sales associates addressed customers by name, and always with a "Miss" attached to it. "Good afternoon Miss Beverly," says one, which is then echoed by the others scattered about the store.
Compared to the Saks Fifth Avenue store just across the parking lot, Miss Jackson's is relatively small – only 33,000 square feet of selling space (compared to Saks' 48,000), but in its heyday it managed to stock a formidable array of top-tier designers. The store regularly held trunk shows, many hosted by the designers themselves.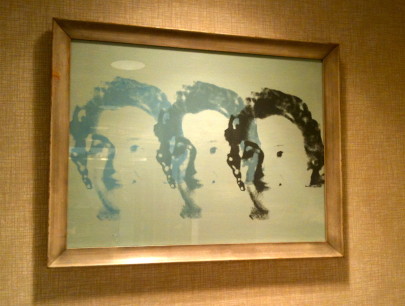 At top: the original 1964 drawing for the Utica Square Mall store. Below, a Warhol-esque interpretation of the store's founder Nelle Jackson takes pride of place on the top floor.
Back in 1964 (when the Utica Square store was built) the store was designed to be the kind of one-stop-shop for women to while-away the day, shopping for gifts, home décor, or getting pampered on the third floor Penthouse Salon (the name alone puts you firmly in the sixties.)
On the second floor, one of the largest fur salons we had ever seen, with fur wraps dyed to match jewel-tone gowns, fur hats, and the kind of huge, sweeping fur coats you only see in places where wearing fur isn't frowned upon.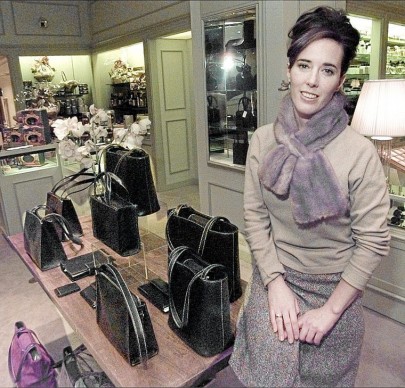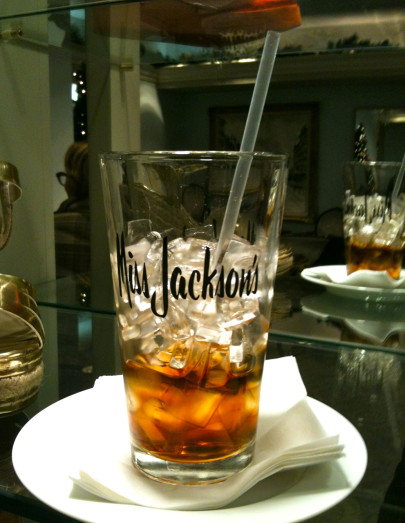 At top: In 1997, a young Kate Spade stopped in at Miss Jackson's for a trunk show of her collection. Below: the store served tea on fine china, while Coca-Cola was served in a signature glass. "They always provided a straw so you wouldn't smudge your lipstick," recalls Beverly Anderson.
Beverly Anderson's closets are testament to the power Miss Jackson's once had on Tulsan women, where buyers made purchases with specific customers in mind.
Her closets are stuffed with several decades worth of carefully preserved clothes – her mother's as well as her own — all with a distinctive Miss Jackson's label sewn into it as prominent stores used to do: here an early Thierry Mugler and Halston, there, an haute couture Issey Miyake and Ungaro.
"Some of these clothes were my mother's and I just can't bear to part with them," says Beverly, carefully returning an aqua-colored satin and beaded gown to its box. It is spot-on Jackie Kennedy, circa 1962. "This one I have to keep for a museum… or something."
For Beverly, the dress is like an old friend. A bit, perhaps, like Miss Jackson's.
Related posts: