Bold moves |
STRATEGY IN PERSPECTIVE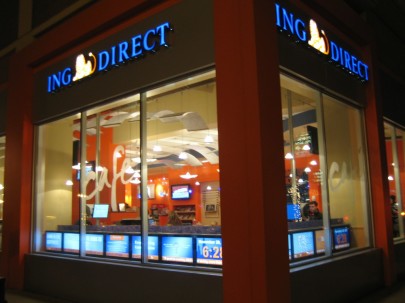 Café Financing: How ING Wins Over Customers — One Cup at a Time
It's been almost a decade now that the financial services sector has looked to balance their online brand strategy with a more robust retail strategy. After years of telling consumers to do everything online, it was time to bring them back into the "store" (the word "bank" is rarely used anymore.)
Bank of America is one mega-corporation that saw early on the opportunity to capitalize on their branch experience.
A few years ago I worked with the firm to develop a retail prototype that would maximize not only the perception of the B of A  brand but showcase the different products and services the bank offered in a compelling, interactive bricks-and-mortar environment (to learn more about this project see the case study on our portfolio page, or click here.)
Similarly, Charles Schwab capitalized on the idea of demystifying investment banking by creating clean and modern environments where clients can go to "Talk to Chuck."  The more relaxed approach has paid off.
In a brief dated July 8, 2011, Bain and Company described the firm's turnaround as "a dramatic recovery" after several years of negative losses in customer retention.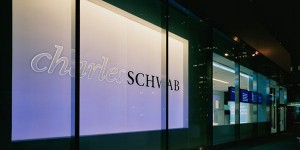 What are they doing right? They have fortified their online experience and a relatively ordinary portfolio of services with a robust and dedicated retail strategy that exponentially elevates the customer experience and in turn, the perception of the brand.
ING Direct is arguably, younger, hipper, and bolder in how it markets its products.  For the past 12 years the brand has invested heavily in creating what they call "cafés," casual spaces that are open to the public and which less overtly market their products and services.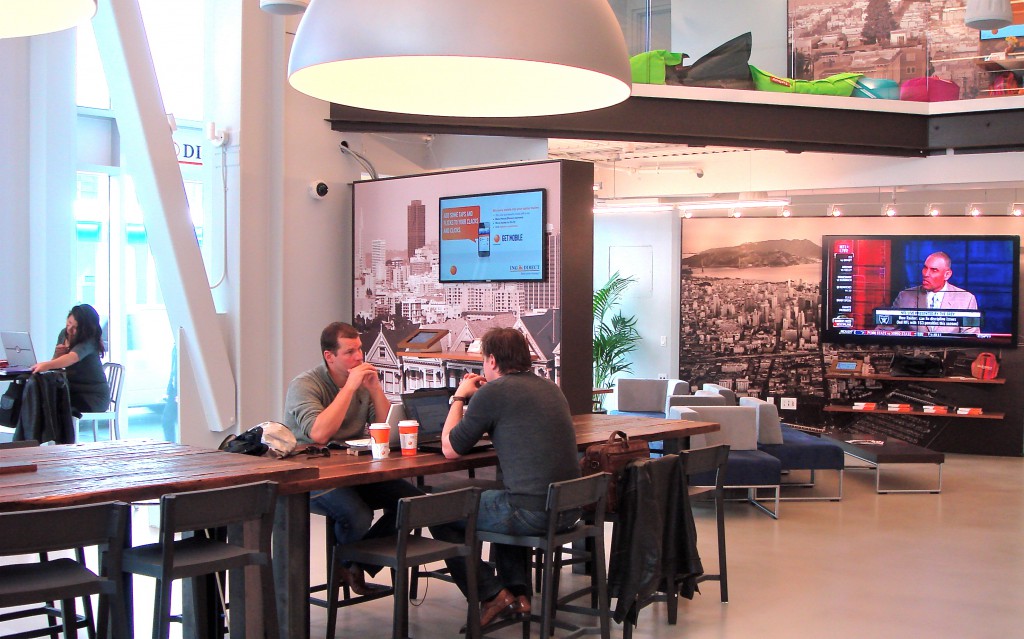 The newly opened San Francisco café at 101 Post Street features conference rooms that can be booked for any purpose, free of charge, and a children's area where they can be taught the fundamentals of saving and investing. Equally important, though, is its location directly across the street from Schwab's flagship.
To view them side by side, the casual observer might think ING's space is an art gallery or event space, and depending on your age and demographic, you might be drawn to one over the other. ING is betting their concept will win on innovation alone, not to mention the fact that they offer a vastly different approach to talking about money.
On our visit, it was a largely post-boomer generation who were using the space — as well as business start-up kids who were using the cafe as their office. While not all of them were engaging directly with the brand, they were soaking in it: signage, digital dashboard monitors, books by ING founder and CEO Arkadi Kuhlmann, and miscellaneous freebies were everywhere.
"We believe banking shouldn't have to be complex and intimidating," says Jeff Mirabello, spokesperson for ING. "It should be simple — like having a cup of coffee. The idea [of the café] married well with our mission and our brand message."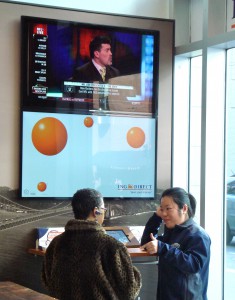 The ING café features lots of open space and natural light, polished concrete floors, casual seating, and bursts of ING's signature orange. The espresso bar anchors the entire ground floor and offers sandwiches, and healthy snacks (ING has subcontracted the F&B to Peet's Coffee.)
We saw a half-dozen or so visitors who were using the space as if it was an ordinary café, surfing the internet (thanks to the free WiFi), and even having meetings. ING Direct staffers float around casually, using the open space plan as their office. Corner areas equipped with computers and informational material offer staff a place to talk about products with prospective clients.
Does it bring them more business? "It's a different approach but it's one we feel has really paid off," says Mirabello.
Zachary Beattie, the San Francisco café manager, agrees. "Most of our products are pretty transparent, so the issue of a traditional environment doesn't really apply. That's what this open space is about."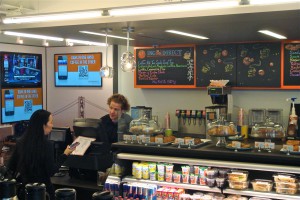 Virtually everyone working in the café — that includes the baristas — is able to talk about ING's services. "If someone's paying with a Bank of America card, we might ask them 'how is the bank treating you?' " says Charles Heston, the café's assistant manager and head of business development.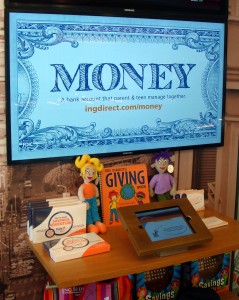 At 17,000 square feet, the cafe is a major commitment. The building has three floors, one of which will eventually operate as an art gallery. The San Francisco location is the company's eighth in the United States, and it's largest cafe to date.
"As more and more financial business is conducted online, people need a place to help anchor their belief in the institution," says Mirabello. "The cafes were created as a means to provide first-hand experience of the ING Direct culture.".
Indeed, "Culture" is the very essence of what any brand hopes it can impart on consumers, which is why they spend millions of dollars a year on advertising and marketing to communicate their distinct brand experience — and while the cost of a retail space isn't cheap, it has the power to function as a three-dimensional controlled environment of total brand purity.
Still, consumer advocates have charged that ING's café strategy is more an effort to avoid federal regulatory requirements under the Community Reinvestment Act, a law that requires banks to lend money to low and moderate-income borrowers.  The cafés actually bypass that law by allowing the cafés to act as "agency offices" — in other words, they're not officially operating as a bank — which is why ING likes to underscore the words "cafe" and "community" when they talk about these spaces.
Either way, ING's café is an innovative approach to brand marketing that redefines how financial and brokerage services are sold to the consumer, and a sign of how the services sector will more than likely transition into the lifestyle sector with retail spaces that are hyphenated and function beyond their actual intent.
ODE Magazine in partnership with ING Direct presents, "Financial Innovation 2.0" featuring ING founder and CEO Arkadi Kuhlmann. February 1, 2012, 5-8 P.M. at Fort Mason's Cowell Theatre in San Francisco. To register, click here.
Related posts: