Bold Moves |
Strategy in Perspective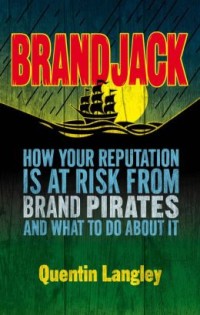 When Brands Implode: 'Brandjack' Offers Guide to PR in a Digital Age
It's fair to say that by now, the Internet has made transformed the way a brand becomes a part of our world, whether that brand is a person (Beyoncé) or a product (Nike).
Increasingly, however, brands are being attacked through a broad range of subversive techniques, a battleground where both the average consumer and the market competitor is free to weigh in and change public perception.
Author Quentin Langley showcases a hefty set of case studies in his book, Brandjack: How Your Reputation is at Risk from Brand Pirates — And What to do About It.
The 2001 controversy that erupted when Nike refused to allow Jonah Perretti to have a custom sneaker with the word "sweatshop" printed on it is just one of many examples given of an "Ethics Branjack."
"Being prepared is not a matter of considering all the things that might go wrong," says Langley, in an interview with bertrand on brand. "Your list will almost certainly be incomplete. It is a matter of putting in place procedures that allow you to act quickly in the face of a crisis."
Brandjack culls together the big multinational corporation blunders to local mass transit agencies, Internet start up, and even a graffiti artist. Langley then breaks them down into nine categories, from "Ethics" and "Customer Revolt," to "Unanticipated Response" and the "Cheeky Brandjack."
The point here being that getting brandjacked in this day and age is a given, and those who are surprised — and worse, unresponsive — are the ones who will suffer the humiliation and loss of brand equity.

Even celebrities get the blues, especially when their reputation and career are at stake. In the case of John Galliano, his drunken rant ruined both. While Beyoncé is often lauded for her savvy PR, Langley reminds us of a recent copyright case where she "Self Brandjacked."
Langley deftly dissects each of the 140 case studies included in the book and measures their success (or failure) at meeting their unique brandjack challenge.
Front and center in their response strategy: social media.
"Reacting in social media has to be fast," says Langley. "You can't spend a few days or even a few hours contemplating it. Ideally you need to react quickly and deeply: you need to empower people throughout the organization to respond."
Does it all just sound like PR? It is – but for the modern age.
Brandjack isn't just a spin doctor's prescription for a better brand, rather, it's a pragmatic approach to the increasingly complex problems revolving around intellectual property. No matter how controversial or inflammatory, the goal being to never lose sight of where brand values intersect with customer loyalty.
The transparent, responsive brand is one that accepts the arrows that will inevitably be aimed at it and finds brand-centric and unique ways to respond.

A flock of parody t-shirts and hats that made double-entendres out of luxury brand names made everyone laugh– but not Hermès and Chanel.
The millennial generation is arguably the most savvy and skeptical of any before it, and more than adept at lancing those arrows when they see hypocrisy. Raised on the Internet and quick to understand how to reach their followers, the Millennial is often mightier Madison Avenue.
"Trust in corporations has declined but not as fast as trust in government," says Langley, citing Edelman PR's annual Trust Barometer. "People trust people like themselves, so investing in brand advocates and brand ambassadors is critical."
Case in point (but not included in Langley's book) is the recent hubbub over shirts and hats emblazoned with ironic twists on major luxury brand names. Chanel and Hermès reacted strongly and sought legal action to ban the merchandise. But did their response only underscore what most of us already know — that luxury brands have little to no sense of humor? If anything, the spoofs could just be a case of "imitation is the sincerest form of flattery."
For the entrepreneur to the established Fortune 500 marketing executive, Brandjack offers invaluable lessons in mitigating attacks and making the digital revolution an ally, not an enemy.
Brandjack: How Your Reputation is at Risk from Brand Pirates – And What to do About It, by Quentin Langley (Palgrave MacMillan, 2014). Just for our readers, get 30% off the list price when you use the discount code PM14THIRTY at palgrave.com. 
Related posts: