Bold Moves |
Strategy in Perspective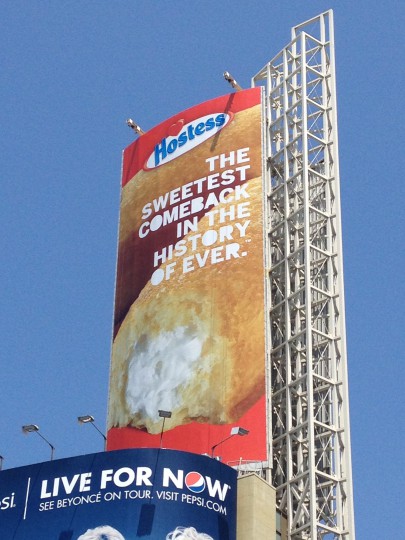 The Sweet Spot: How Social Media Drove the Campaign for Hostess Brands
America is practically defined by some of the world's most iconic food brands, foods that barely qualify as actual food but still manage to hold court on the shelves of supermarkets and convenience stores.  The Hostess Twinkie, Ding Dong, or Ho Ho could just be snack food royalty, even long after their golden years had peaked.
Which is why last year, when Hostess filed for bankruptcy there was the kind of hysterics and shock that might normally be reserved for other more pressing news headlines like Syria or gay marriage, but all that, for a moment at least, took a backseat as Americans turned to social media to express their disbelief and nostalgia for one of the most guilty of pleasures.
Meanwhile, Hostess Brand's agency of record, Bernstein-Rein Advertising, was taking careful note of what people in social media were saying. "People didn't want the new hostess, they wanted what they remembered," says Dave Lubeck, executive vice president at the agency, which is based in Kansas City, Missouri. "This was about a nostalgia for what was."
Top, A tour bus is wrapped in a giant Twinkie, while below, mascot Twinkie the Kid greets fans on the Hollywood Walk of Fame.
Hostess Brand was liquidated last November. With the new owners' blessing (Apollo Global Management and C. Dean Metropoulos and Company), Bernstein-Rein began crafting a digital, outdoor, and interactive marketing campaign that would make the return of Hostess "The sweetest comeback in the history of ever."
"Nothing works better than when your brand advocates end up driving the campaign and how that campaign evolves from there," says Lubeck.  "Just to say 'your favorite snack is back' is underwhelming. Social media told us that there were way more emotional feelings about the brand than that and that whatever we did, it needed to be as big as those emotions."
The website features a rich primary red, mouth-watering artwork of the brand's signature products, and short, punchy copy that doesn't bother with the pretense of nutritional value. These are Twinkies, people.

Bernstein-Rein amplified the brand's iconic products but kept them in a modern context. "We had to go beyond where the brand had been before."
"This is a brand that had been around for 80 years," says Lubeck. "We had to go beyond where we had been and be bigger, bolder, more aggressive, more contemporary, and much more engaging. Clever – but not just clever for clever's sake."
"The king of cakes is at your door," runs the web copy for Ding Dongs. "You know you love Ding Dongs if the sound of the doorbell makes you drool."
Part of the strategy for how Bernstein Rein evolved their messaging was predicated on the fact that they knew they were still faced with the challenge of talking to two audiences: those who grew up with Twinkies, and the those who perhaps had only barely heard of them.
"The sweetest comeback in the history of ever" pointedly borrows from the way millenials tend to use superlatives for nearly everything, especially when describing things or events of mythic proportions.
Bernstein-Rein never expected the campaign to be so wildly successful, with social media even more abuzz than before. Their strategy was as big and bold as their tagline: giant billboards in Madison Square in New York and Hollywood Boulevard, street teams handing out t-shirts and buttons, a social media component asking fans to #cakeface for twinkies (with photos and videos on Instagram and Vine), and a helicopter live shot of Twinkie the Kid arriving in a custom-wrapped truck on the Today Show.
"We've almost brought it up to a level that it wasn't at before the bankruptcy," says Lubeck. "There is just this overwhelming demand for the product now and Hostess is having a hard time keeping up." In this case, it looks like Bernstein-Rein did indeed hit the sweet spot.
The Arranged Marriage | Fast-Food Marketers Bring Together Some Unlikely Couples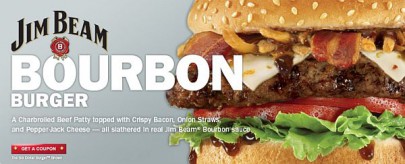 The recipe for a successful marriage is sometimes measured in good looks, great taste, and an enviable pedigree.
This year that could be how we'd describe some of the interesting partnerships in fast-food. Taco Bell and Doritos (Fiery Chicken Cool Ranch Doritos Locos Taco — try saying that three times fast), Jamba Juice and Quaker (a juice booster and granola bars), and my personal favorite, the Carl's Junior Pop-Tart ice cream sandwich.
These limited-edition products may not become the all-stars for these retailer's menus, but they're definitely a way to bring some extra star-power to a brand, thanks to varying degrees of brand equity. Earlier this season Carl's Junior launched a burger flavored with Jim Beam. I'll drink to that.
And if some of these partnerships seem too far fetched, just remember that once upon a time, no one understood how Pizza Hut and Taco Bell could come together under one roof. Come to think of it, I still don't.
Related posts: