The Evolutionary Shopper |
What They're Doing Now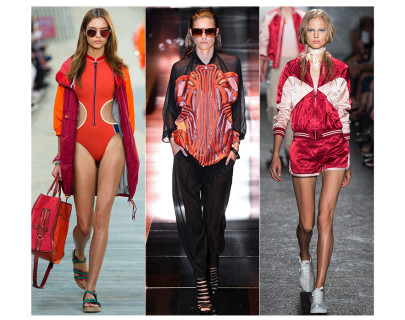 The New Denim? Why 'Activewear' Trend Continues to Grow
Yoga pants have become the new denim, the go-to pants for countless women who insist on wearing them at all hours and in all places, regardless of whether they are actually doing yoga or not.  It's a trend that shows no signs of slowing.
Both in Paris and New York, designers continued to show activewear-influenced looks with even more refined and sophisticated versions of athletic pants in luxurious blends of cotton, cashmere, and wool,  with less of an emphasis on the clingy, "jeggings" look. Think harem pants or tailored versions of the traditional track pant.
The "jogger" is arguably the pant of the season, adding even more injury to the denim market, which hit a slump earlier this year, despite new developments in performance fabrications and treatments.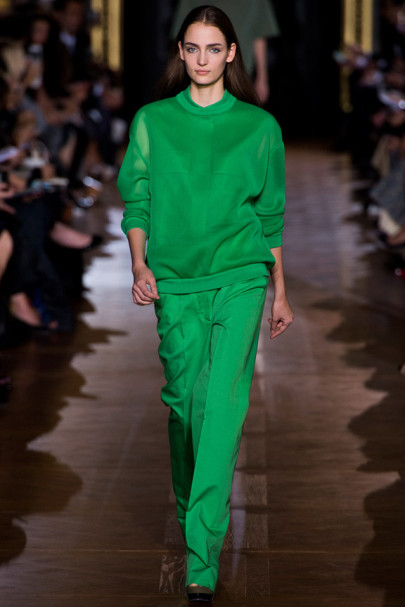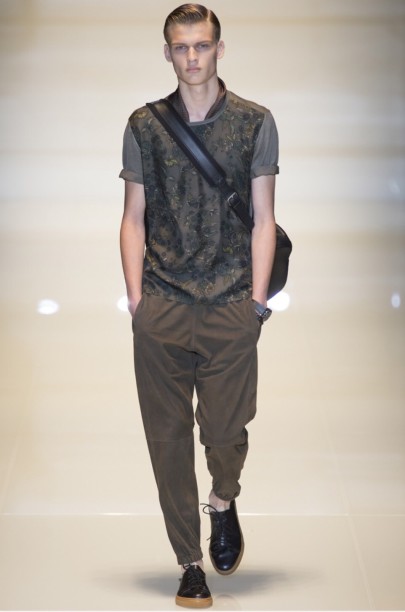 On the runway: Stella MacCartney (at top) was one of the first to adopt active wear silhouettes into her collections, such as this one from her S/S 2013 show. Gucci (below) took a more subdued approach with this look from the brand's S/S 2014 collection.
And while much has been written of the overly casual nature of today's office environments, the Millennial consumer is showing a continuing interest in mixing high and low looks, with new, upscale interpretations of traditional casual wear.
Interestingly, the jogger is showing an even broader appeal with men, who are pairing them with luxurious sweaters, tailored blazers, and everything from designer sneakers to leather work boots.
So what's it all mean?
It's actually been more than a decade that athletic wear has grown in influence with the fashion industry, from the high street looks of Stella MacCartney to this season's windows at H&M and Express. With new innovations in performance fabrics and the continued appeal of high-low fashion silhouettes, activewear shows no sign of losing marketshare.
Pop singer Rihanna sporting the leather jogger pant, which this fall has been another way that brands have experimented with the popular style.
With men in particular, categories like the jogger pant allows them to communicate a casual air without the stigma of the more unsightly sweatpants they wear going to and from the gym. And with the continued focus on health and fitness, active wear allows both genders to show off their hard work at the gym to their advantage.
The homoeroticism of men performing and admiring their bodies together in the confines of the multi-mirrored gym means that activewear has become more valuable as a wardrobe staple, the envelope with which to conceal and reveal one's toned body on a public stage.
In his essay, The Pleasures of Spectatorship, Oliver Winchester writes, "the machismo of spectatorship is called into question as sportsmen undress and offer up their bodies as fashion mannequins. Such men are increasingly aware of themselves as objects of desire, and advertising has adapted to seduce heterosexual consumers with appropriately narcissistic images… thanks to the growth of the fitness industry and gym membership, men's relationship to their bodies has altered… the body, co-opted by the lifestyle industry presents a further opportunity for authentic self-expression."
The fact that technology has increasingly begun to influence the kinds of textiles available to designers means they are able to present new ways of sculpting and revealing the body. Further to this is the fact that activewear permits one to assume the guise of being "health conscious" as opposed to purely narcissistic. But I think we all know that the real truth is, of course, the latter.
"The future of sport fashion will be geared neither toward sport nor fashion, but instead toward the provision of apparel to facilitate the performance of lifestyle," writes British blogger Stylesniper. "Fashion brands created supply for a market admiring of the form, function and comfort of sportswear apparel but demanding additional elevated status. From this status followed a sense of security derived from the attachment of a fashion label to their adoption of sports style."
>> Read More: The essays quoted here are from the book, Fashion V Sport, edited by Ligaya Salazar, which accompanied a 2008 exhibition of the same name at the V&A in London. Learn more about it here.
Related posts: