Retail by design |
THE BRAND EXPERIENCE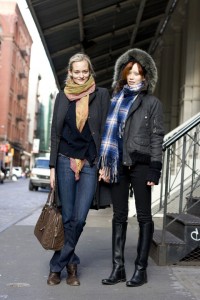 The Look That Says: Now
I'm just about to leave for New York for fashion week and to do some press for my book. Going to New York is a kind of pilgrimage — to art, culture, and of course, fashion. In more recent years, my trips to New York are less frenetic and driven. I am less a participant and more an observer.
I like it this way: to be alone and anonymous and observe New Yorkers being… well, New Yorkers. While I love going to museums and exploring the latest shop or neighborhood of the moment, I also love just parking myself somewhere and watching the performance on the street. It always looks as though a casting agent had come along, given them their roles, and a director calls "cue the background!"
Everyone in New York tells you how exhausted they are. I am convinced, it's because New York is all about the moment — for everything. For everyone. Unlike any other place in the U.S., and perhaps even the world, New York is about the "Now" ; never about the "Before" or even the "Later."
It is all about what you are doing Now. It is all about who you are Now. It is all about what you are wearing Now. No one really cares about who you were Before, or who you will be Later. Being in the Now all the time is exhausting. For the people who live and love fashion, it is even more exhausting.
But it is also what makes it all so entertaining. A walk down almost any street in Manhattan — a city which, for better or for worse, has gentrified itself nearly to the point that it is rare to discover anything that hasn't been discovered by everyone else — reveals a parade of people wearing their very best Nows: outfits meant to appear accidental, fabulous, and very much an interpretation of who they are…. now.
See them a year from now and that look will be so yesterday — so… before now.
Related posts: