Design We Love |
The Badass and the Beautiful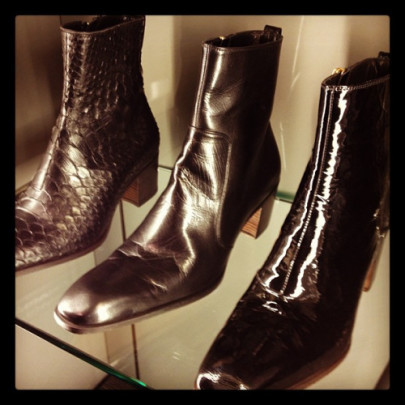 The Cult of Jonny, Or Why I Learned to Walk in a High Heels
It's not often that a pair of shoes stops me in my tracks but Yves Saint Laurent's now iconic Jonny Boot managed to do just that to me, back in the golden age of Tom Ford.
When I first saw them  they looked far too louche to be taken seriously. Uh.. are you wearing high heels?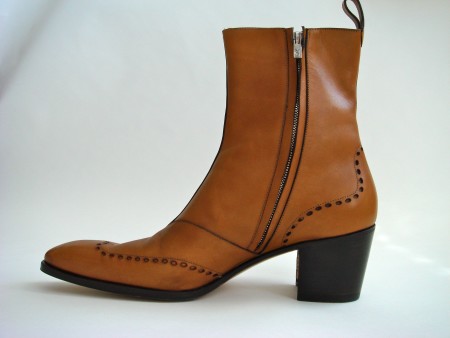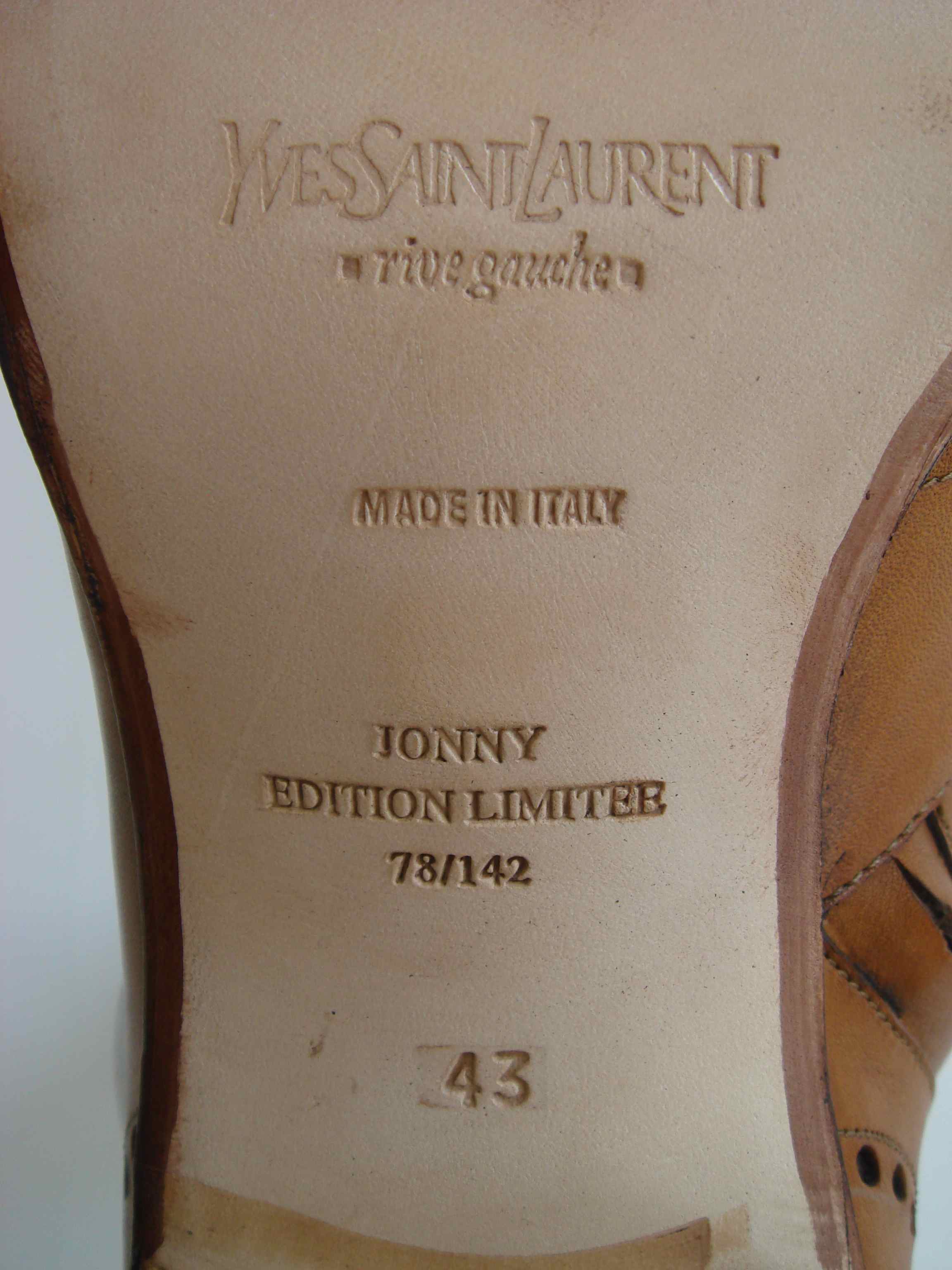 DUDE LOOKS LIKE A LADY: The Jonny Boot has the masculine swagger of a cowboy boot with a dash of  1970's androgyny (think New York Dolls.) It was under Tom Ford that Yves Saint Laurent boldly launched the man heel.
"It's a Cuban heel," I was informed. Indeed, according to Kenny Abiog,former YSL's men's buyer for the U.S., the shoe was not exactly a runaway success for the brand when it was launched in 2004.
"Even I looked at it and thought it was the kind of shoe my hairdresser would wear," said Abiog, who we met in San Francisco while he attended to the funereal task of packing up the shuttered YSL boutique on Maiden Lane.
However in very little time the Jonny Boot became one of designer Tom Ford's most coveted products and at one point the Jonny Boot accounted for the lion's share of the label's men's wear profits. The Cult of Jonny.
"A store would get a shipment of 24 pairs on a Friday and by Monday there would be only eight left," recalled Abiog.
I tried on a pair and for a brief moment I had the uneasy feeling of wearing a pair of stilettos. But after a few awkward struts, I was smitten and bought one of the last Jonny's available: a buttery soft, leather wing-tip in a limited edition of 142 pairs, with mine being number 78. Back then, they sold for $795, which in today's dollars would be closer to $900. On eBay, a pristine pair now sells for  close to $2,000; those in an exotic skin, a good deal more.
Mind you, these are not shoes for the shy or timid: to stand in these shoes, one must stand T A L L. Comic relief can be had in watching the uninitiated try to walk in them. Some slouch, others stumble, and then there are those who walk very slowly, as if on stilts.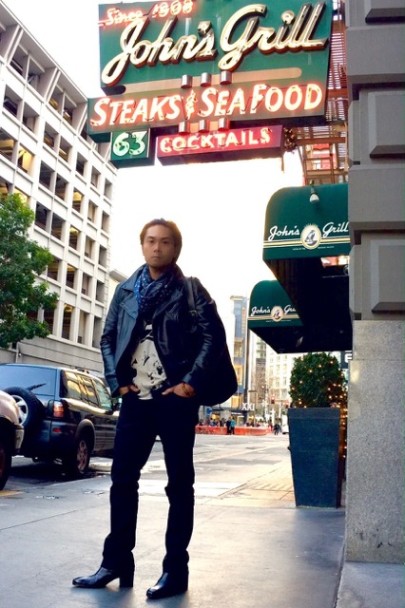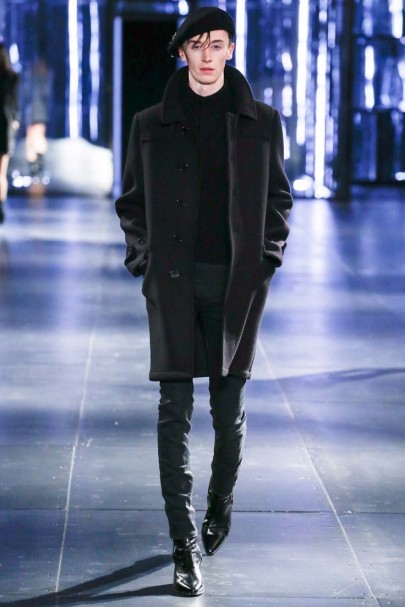 JOHN, MEET JONNY: At top, b. on brand's Brian Valmonte in a pair of  original (new-in-box, no less) 40mm Jonny boots he found on eBay. Below, a model wears a newer incarnation of the Jonny at the brand's 2015 spring show. Hedi Slimane relaunched the Jonny as the "French boot" and a second model he named after himself.
Under Tom Ford, the Jonny was a runway success, such that even under subsequent creative director Stefano Pilati's reign, the Jonny Boot continued to be available at select boutiques. But shortly after Pilati was shown the door, his successor was quick to pull it off the shelves.
That would be Hedi Slimane, who clearly wishes he had thought of the Jonny himself, which is why he's literally put his own mark on the shoe. It is now called the "Hedi." It's lower than the Jonny but if you still want to get high — I mean with your shoes — then ask for the "French 85": yup, that's 85mm of heel, honey.
CALL ME HEDI: At top, Hedi Slimane's version of the Jonny, now called the "French Boot." Below, a boot only Wonder Woman could love in the new silhouette called the "Hedi."
On a recent stop at one of the mausoleum-like Saint Laurent boutiques ( part of Slimane's new "vision" for the brand), the sales associate practically scoffed when I mentioned the Jonny boot. "Oh no, that's gone. The new creative director has made his own boot," as he gestures towards the Hedi boots that line a wall. He looked at me as if I was Rip Van Winkle. "We do get some people who ask about the Jonny from time to time, but not that often."
Along a back wall full of Punk-inspired attire like creepers and studded belts sat a pair of silver Wonder Woman-style boots emblazoned with red stars and blue stripes. Hardly something I could imagine myself in — let alone the brand's namesake, Yves Saint Laurent. Then again, who knows? I didn't think I'd wear Jonny's either. "The Chinese love these," reported another store associate. "Don't ask me why, but they've been selling really well with them."
Related posts: