Bolds Moves |
STRATEGY IN PERSPECTIVE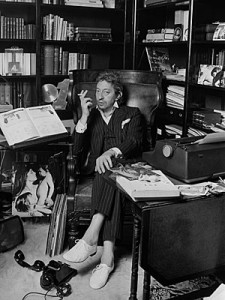 Repetto: French Dance Shoe Brings Out the Serge in You
Serge Gainsbourg's reputation as a singer, lover, and all-around bad-boy is legendary. As husband to actress Jane Birkin and father to singer-actress Charlotte Gainsbourg, Serge had the je ne sais quoi that most men only dream about.
To top it all off, he was a short little chain-smoking Jewish man and women loved him for it. His Mod, louche style was pure Parisien, from his trim Levi's jackets  and striped Breton sweaters to his long loopy scarves; bell-bottomed tuxedo pants paired with velvet blazers.
And then there were the shoes.

Gainsbourg allegedly disliked wearing most shoes and if he could have had his way, would walk the streets barefoot. His "69 Années Erotique" duet-partner (in more ways than one) Jane Birkin had just the thing for him: a pair of crisp, white Repetto dance shoes, a model called "Zizi Homme."
Gainsbourg was smitten and throughout his life had dozens of pairs of the supple shoe, and the Zizi became as much a signature of his look as a cigarette.
Since 1947, Repetto has provided hand-made dance shoes to every major dance company but has also been adopted by the fashion world. In 1999 Jean-Marc Gaucher, a former executive from Reebok, took over the reigns with bold plans to make Repetto a major player in luxury fashion. Limited-edition collections have been created with the likes of Karl Lagerfeld and Veronique Branquinho. Hedi Slimane, Martin Margiela, and countless other designers have designed shoes in homage to the Zizi Homme.

Three years ago, on a trip to Paris, I made a bee-line to the Repetto boutique on the rue de la Paix.  I had become obsessed with pictures I had seen of Gainsbourg, lolling around his apartment in his exquisitely white (and diminuitive) Repetto's.

Their legendary comfort is true: the shoes are the closest thing to walking barefoot. Made from the softest of calfskin, Repetto ballet shoes ar not for urban trekking — the soles are wafer thin. But for lounging at your corner watering hole or holding court in a pied-a-terre, there is nothing more chic.
Repetto shoes have limited availability in the U.S. Try www.farfetch.com, or better yet, book a ticket to Paris.
Boutique Repetto
22 rue de la Paix, 2eme. Tel: 01 44 71 83 12.
51 rue du Four, 6eme. Tel: 01 45 44 98 65.
Related posts: