Retail By Design |
THE BRAND EXPERIENCE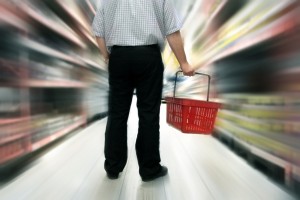 Recession Proof Retail: Surviving and Innovating in a Downturn
With all of the metrics used to read the future of the American economy, there's one unit of measure you might not know about. Lipstick. Some call it the "Lipstick Effect" — that when the going gets tough, the tough get a tube of Chanel lipstick #23 Rouge Orage. At $25.00, it's like a whole new outfit next to a pair of $500 Christian Lamboutin spectator heels. Or in the case of men, they go to the corner barbershop instead of the pricey salon.
The American consumer generally doesn't stop shopping; they just shop differently, which usually means less and more strategically. These days it's meaning a lot less. Big ticket items are always the first to go, but according to a recent Bloomberg survey, apparel and electronics have managed to more or less defy the slump. But retailers who are suffering have seen sales revenue drop by as much as 25%. Or if you're the Sharper Image company, it's a sudden and painful stab to the jugular. Sharper Image is one of thousands of casualties of this deepening recession. The International Council of Shopping Centers forecasts that store closings could reach nearly 6,000 this year, the highest since 2004.
It's a trend that has steadily escalated since the beginning of the year, after a dismal Christmas run of sales. In an NPD survey in May of 2008, 58% of consumers said we are in a recession and would either curb spending or carefully consider how they spend. Says chief industry expert Marshal Cohen of NPD Group, Inc. , "Consumers are finally starting to react to the price of gas and other rising costs and are shifting shopping intentions."
What will you do with your government rebate check? April 2008
Pay Down Bills 42%
Save It 21%
Do Not Qualify for Rebate Check 14%
Spend on Discretionary Items 12%
Other 11%
Source: The NPD Group Inc./Consumers Speak Out on the US Economy
Cohen, who provides an ongoing series, Fast Checks Study: Consumers Speak Out on the U.S. Economy to leading retailers, sees far too many that are cutting back — less product, less service, and less inventory. So what can retailers do to entice consumers back into the store and part with that stimulus check? Plenty. From big box retailers to corner boutiques, the smart retailer is one who are being strategic with their merchandise and exploring new ways of reaching into a consumers pocketbook.
Using The Right Tools and Creating New Ones
The fact is, many retailers weren't adequately prepared for the steady decline in consumer confidence in the second quarter of 2007, preferring the bunker mentality to a strategic one. In desperate times, the last thing to sacrifice is the positioning and loyal customer base a retailer worked so hard to create. According to STORES Top 100 Retailers, the most successful retailers are those that stay ahead of the pack and reinvent themselves well before a trend has peaked. But many retailers both large and small began cutting back on their fundamental outreach tools as soon as the writing was on the wall. They slashed marketing and PR budgets, scaled back or eliminated in-store services, and gave up on paying someone to update their website with just-in-time messaging. Says Cohen, "Retailers today are trying to let the merchandise speak for itself… And brands too, should not rely on retailers to communicate their message – they won't. " It's Retail 101, but many end up chasing trends that have nothing to do with their brand value in the marketplace. A recession is when you get back to basics: get the merchandise right, communicate what the product does, and show why someone needs the product. So all of us can learn from the specialty retailers and the "everyday low price" stores.
Which is why now more than ever is the time to develop messages and concepts that speak to the customer and continue the theme of "purchases with a purpose". The bulk foods, dual purpose items, and merchandise that can satisfy the whole family. Home electronics – always a volatile category — still manages to feel like a sensible purchase to many consumers, maybe because soaring gas prices are keeping them at home rather than on an expensive trip by car or plane. A Plasma screen TV can help parents rationalize keeping the kids at home and saving on a $40 night at the movies. Target launched its "Hello Good Buy" campaign to remind consumers that the brand still stands for style and value. Says Hadley Burrows, Target spokesperson, "We've heightened our focus on our frequency-driving business including pharmacy, food and commodities, and placed greater emphasis on the Pay Less side of our brand promise – in our weekly circular, in-store signage, and through greater use of value-pricing on end-cap displays."
One of the runaway hits? Private-label food items, which contributed to a 13.1 percent sales increase. The mega-stores are banking on their image as the ultimate place to get great deals, and it's working. Even Wal-Mart is getting in on the action with February 2008 same-store sales up 2.6%. Of course it's always easier for big box retailers to negotiate value-pricing with vendors, but what if you're a small, locally owned boutique — how do you maximize your investment without compromising selection? The answer lies in keeping even closer track of what the customer is actually buying, how often, and how much. Many smaller merchants negotiate smaller orders with their top vendors, or split orders with another retailer. The result means less stock in store, but with a greater chance of it being sold at full price.
Making Yourself Matter Now (When Maybe You Don't)
The fact of the matter is, Americans have always known they spend their money on the wrong things. Junk food, endless piles of t-shirts and jeans, and cars they can't afford. It isn't enough to have Suze Orman waving her hands and beseeching them to save. But now it is, which means retailers need to look for ways to reestablish their value to the consumer. For the once-successful branded "experience" stores like Disney or Warner Brothers, the problem isn't an economic downturn as much as the fact that they had over-saturated the market and there suddenly wasn't any synergy with being next-door to a Tiffany's, Sak's Fifth Avenue or Chanel. Synergy, whether in a boom or a bust, is critical to making a brand matter and build on the momentum stirred by brands with either complementary or parallel products. Recession proofing is always enhanced when there's the right real estate mix and while every brand wants a fancy flagship on the square, an economic downturn is when the proof is in the pudding. Are you still relevant? With the Disney store, the relevance was gone once they'd saturated the market with the millionth Little Mermaid T-shirt. The Disney store is a now classic example of the 1990's fascination with retail on steroids. It's a paradigm that has lost it's meaning in an age of sharper, more highly-calibrated method of retailing.
Check Yourself Before You Wreck Yourself
Sometimes it pays to think like a start-up. Many companies have taken this approach, with calculated risks that challenge the perception of their image in the market with a strategic approach to satisfying customer need. Gensler San Francisco recently completed a global brand strategy for Manpower that entailed overhauling their staid branch offices into dynamic, street-level retail environments that celebrate the "world of work." More than an image makeover, this was about making their message and their offer more relevant to what's happening in today's employment services market. The result is a newly invigorated Manpower candidate-consultant experience, and suddenly the brand takes on new meaning. Says Manpower CEO Jeffrey Joerres, "
Tune In, Turn On, Pop Up
Or maybe it's time to try something really different. In Milan for Salone Di Mobile, we saw two examples of pop-up stores that got plenty of attention and gave a whole new context to the shopping experience. Pop up stores bring a sense of urgency and "performance" to retail and allow a retailer to try new strategies in merchandising that maybe wouldn't work in a typical store. Charles and Marie, an online "coolhunter" and manufacturer specializing in one-offs and limited editions, set up a pop up shop for only 5 days in an empty thrift shop in the heart of the Milan warehouse scene. It was always packed and nearly impossible to get into the tiny space. The pop up concept is more casual than a formal store and the limited-time idea says, "get it while you can."
Meanwhile, across town, big, corporate beauty brand Nivea showed off their portable pop up store shaped like a doughnut, offering skin consultations, hair stylists, and the whole range of Nivea products. Vintage bicycles painted electric blue were strategically chained to posts on streets leading up to the store – a strikingly mysterious wayfinding concept that doubled as installation art. Up front at the entrance to the shop, a tall, handsome model dressed as "security" stood sentry next to a giant digital clock which ticked off the minutes before the store would simply fold up and disappear.
The energy of a pop-up store is precisely what makes Apple flagships the benchmark for retail success. They've created a sense of excitement, freshness, and education that hasn't been duplicated – yet. But increasingly, when companies come to brand strategists, one of the case studies that always resonate is the Apple store. "Their quest is to create the ultimate shopping experience," says Marshall Cohen. "A place for you to 'shop', learn how to use the product, learn what you can buy to enhance your product… and most important: a place to come to feel comfortable, to bond with the brand, and meet others that can help the consumer. No pressure to purchase, just a wholesome learning and entertaining environment."
Outlet Stores Capitalize on 'Trading Down'
The "get it while you can" mentality never loses its appeal, and that's even more true when times are tough. Analysts call it "trading down," where mid-income Americans migrate to discount stores and value-priced retailers. Some are even taking the pop-up shop mentality and creating "temporary" outlets – albeit with far less atmosphere. Here, the deal is the show. Earlier this year, Saks Fifth Avenue launched a 24,400 square-foot "Off 5th" outlet in the Prime Outlets International Center in Orlando, Florida. The outlet allows the retailer to experiment with marketing strategies it might never do in its regular stores – from gifts with purchase, to lucky draws, the Saks outlet is essentially a new distribution channel and opportunity to tap into a different, "aspirational" customer. Outlets are also a way to control excess inventory without sacrificing brand identity in a store environment. With an outlet, brands control the pricing, hire their own employees, and determine the build out of the store itself.
Nevertheless, many proceed with caution before opening a branded outlet. In a recent report in WWD, retailers like Kate Spade, Lucky Brand Jeans, Puma, and Juicy Couture have all jumped on the outlet train. Retail property managers are seeing outlets as an opportunity to fill holes otherwise left by mid-level brands. Indeed the outlet mall is having something of a heyday. Woodbury Common Premium Outlets in Central Valley New York has 220 outlet stores and 840,000 square feet, with a virtual laundry list of top brands, from Bottega Veneta to Valentino. Other brands at Woodbury like Helmut Lang and Judith Ripka took the pop-up approach , with mini-outlet shops opening for only a few months at a time.
Conclusion
To remain solvent and successful in a recession a business needs to be inventive, flexible, and work collaboratively in innovating solutions. What makes any great business shine is that they were equal parts strategic in their operations and used competitive intelligence in informing how they face a challenge. A great retail strategy isn't much different. If your store were a pop up store with only 5 days to make an impression, what would you do? It's about making the store experience feel new, exciting, and an interactive. A recessionary retail strategy is always vigilant in reinforcing the value of the brand experience on every level – but also exploring new and innovative ways of articulating it – whether for 5 days, or the length of a (hopefully) short recession.
This article was originally published in the Fall 2008 issue of the Wharton Real Estate Review.
Related posts: