The Evolutionary Shopper |
What They're Doing Now
Reality By Design: Television's Growing Influence on Interior Design Tastes
If you've been looking for an apartment to rent or a house to buy, you might have found yourself looking at the online photos and thinking that so many people seem to have the same taste. Those Italian vermouth posters? Everywhere. Kitschy "old" Paris café signs and Eiffel Tower tchotchkes?  Young women can't get enough of  them, especially if they're also into Audrey Hepburn.
So how is it that so many people can have the nearly identical tastes in design? How does it happen?
It might just be the power of television, especially since so many so-called reality shows and studio dramas make ample use of ordinary chain stores, from Ikea to Pottery Barn. Mainstream television essentially provides a style shorthand for design trends.
Anyone who is a fan of the Bravo Channel's, Real Housewives, is already well-acquainted with the show's long, lingering looks at how the other half lives – or at least, the other one percent – who seem to live in a world replete with dozens of votive candles and oversized white sectional sofas, with a cast of self-absorbed women who even at 11 AM have a glass of white wine in hand.
For many viewers, the program has become a kind of decorating primer, and while they may laugh at the women's antics, they're also taking note of how they live.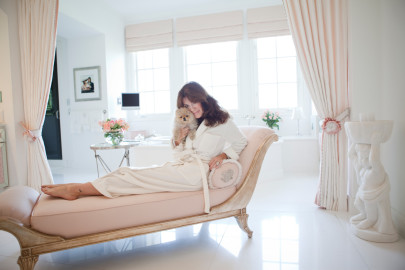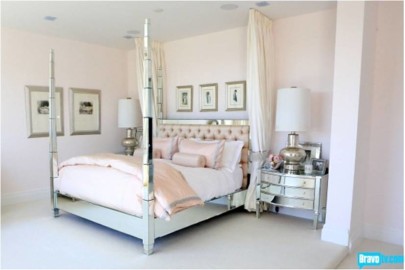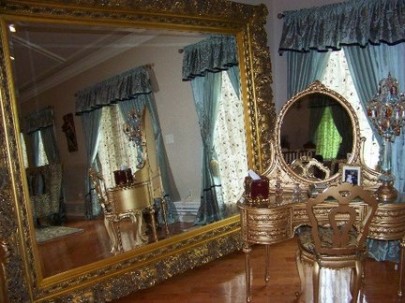 From the top: Of all of the Real Housewives shows, Beverly Hills' Lisa Vanderpump seems to draw the most fascination from viewers about her interior design style. Her Hollywood Regency style contrasts with New Jersey's Teresa Giudice's Saudi Arabian Rococo.
The ubiquitous candles, the mood lighting, stacks of art books, and of course, lots of mirrors: all have begun to find their way into the American lexicon of interior design – for better or for worse. Crack open a Real Estate magazine and chances are, you'll see homes staged as if Teresa Giudice – pre tax scam – had just stepped out for a manicure and left the door open for you.
That everyday consumers are referencing reality shows for design ideas isn't so far-fetched.
"There's a prevalent design aesthetic I would call 'suburban rococo'," says Dr. Karen Tongson, who teaches a course on reality television at the University of Southern California. "This might have to do with the fact that a lot of suburban McMansions are styled after Mediterranean villas or grand estates on Lake Como."
Television homes have generally had limited influence on the American public, mostly because viewers knew they weren't real. But by the early 2000's and the explosion of reality programming, watching how people live has made the homes and apartments as much a character as the people who live in them.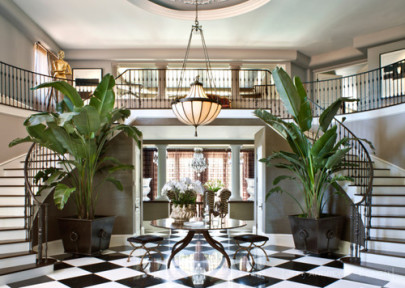 The Kardashian home plays a starring role as the backdrop the the family's various foibles. Its design was masterminded by Kris Kardashian and her interior design, Jeff Andrews. Kardashian's now cancelled talk show featured a near replica of her home's entrance foyer.
"I love Lisa Vanderpump's home, it is magnificent, and a true reflection who she is- so grand, so classy, just drop dead amazing!" says Bennet Zelle, a television and advertising art director who has designed sets for a Real Housewives TV special. "And of course Adrienne Maloof's home is incredible, a great inspiration for sets I know I will make in the future."
Zelle insists that the homes on Housewives are untouched and unadulterated by the networks, but he admits that some of the women may hire their own stylists to help primp their homes. At the very least, a lighting designer steps in to help enhance what we see, but the crux of the show is that these are powerful and opinionated women have very much their own sense of style.
"The entire Bravo franchise began to execute this model and created a true brand for itself as a network that arbitrates taste, beginning with Queer Eye," says Dr. Tongson.
Thanks to programs like Queer Eye for the Straight Guy, America has learned that "every room needs focus" or that you should "add a splash of color to one wall" to give it a modern touch. And retailers are taking note, offering quick, colorful solutions to accessorizing a room.
"There is so much great design available on the consumer level right now, affordable, great pieces, and people want to be surrounded by great design," says Zelle.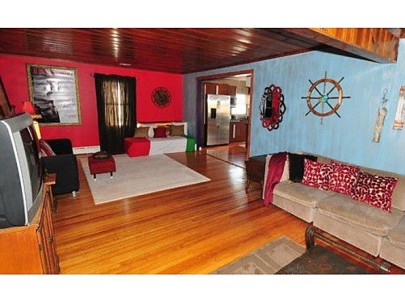 The house used for the show, Jersey Shore, with décor that can only be described as "nouveau frathouse." The furniture on the show was routinely smashed or vomited on.
MTV's Jersey Shore, communicated a more, shall we say, working class design aesthetic, with wood paneled walls, big squishy sofas, and hot tubs. Critical features of what can only be described as "nouveau frat house."
On the show, the cast routinely trashed rooms and furniture generally ended up thrown, broken, or passed out on. However in one episode a prized marble and brass coffee table is quickly pulled aside by Mike "The Situation" so as to not get totaled in a hair-pulling mêlée between Snookie and Angelina.
CBS's Big Brother makes the most of small spaces, relying heavily on bold colors and oversized props as a backdrop. "That's the language Big Brother speaks," says Robert Saccenti, an art director on the program. "Viewers understand and want it season after season." Like the design of any space, form and function are critical, and a team of designers works to develop spaces that perform as well as they look. "We often put together a collage of different elements — color swatches, pictures of furniture and light fixtures — to give executives a feel for the space."
But just because it's a show watched by millions doesn't mean the sky is the limit when it comes to budget. Adds Saccenti, "You'd be surprised how many shows shop for set dressing at Ikea."
b. on brand's Guide to Making your own Home a Reality Show
1. Candles and flowers go a long way to adding romance and drama to any room. The big white couch is optional — but convenient for the spurned lover. "Who doesn't want to sink into a gorgeous white couch, with fresh flowers and beautiful candles all around," says art director Bennet Zelle. "It seems to be a universal comfort. Classic is classic- and it always works." Until somebody spills the wine.
2. Those craving a vacation to the Jersey Shore — and God, who doesn't? — should first start with a few bottles of Jack Daniels and a half-case of diet coke. Once you've polished that off, the real designing can begin: for starters, get some furniture you don't mind having broken by volatile Guidos. You can't go wrong with Ikea's iconic LACK table.
3. Ever noticed how people leave old buckets of paint out for recycling? That's the perfect opportunity to add a bold bit of color to those landlord-white walls. The fun starts when you pop the lid and discover it's something called "Pink Pony."
4. You obviously weren't watching closely enough if you missed all that mirrored furniture in RHOBH Lisa Vanderpump's home. Anthropologie and Pottery Barn probably weren't her sources, but they might as well be yours. We won't tell.
5.  Make the Jersey Shore house your design inspiration. Paint an Italian flag on the garage door. The neighbors will just love it. Or better yet, actually move to the Jersey Shore and give the rest of us a chance to get your rent-controlled apartment.
This story originally appeared in the San Francisco Chronicle. It is presented here in a slightly different form.
Related posts: