Bold Moves |
STRATEGY IN PERSPECTIVE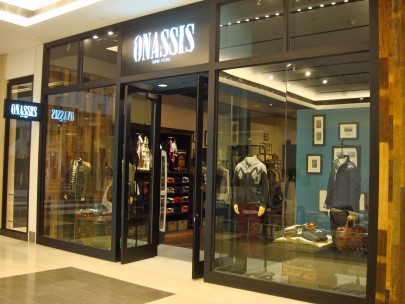 Menswear brand Onassis opens third U.S. store in San Francisco
It was only a matter of time before a new contemporary men's brands would arrive on the scene targeting the ever-expanding market of hipster-inspired clothes for the modern Millenial.
Enter Onassis, a brand backed by Chinese investors and developed by a creative team in New York that, to our surprise, has nothing whatsoever to do with the legendary shipping tycoon, Aristotle Onassis.
So if you were hoping for a store with bar stools covered in the skin of a whale's penis (yes, Ari famously had those on his yacht, the Christina), then you will be sadly disappointed.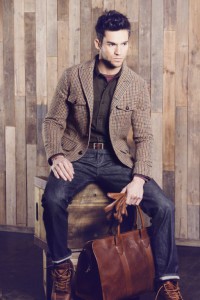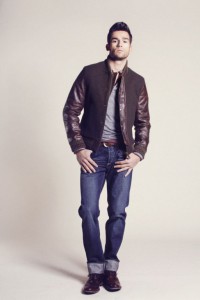 A brown wool herringbone jacket with buttoned flap pocket, $338. A classic varsity jacket in brown wool with leather sleeves is cut slim and features a fully-lined quilted interior. $498.
"We were actually inspired by New York City," explains Michelle Li, vice president of U.S. operations for Onassis. "Back in the day, New York was a huge seaport where people from all over convened for trade and the exchange of ideas." I am still a little lost on how this ties into the brand and why the name Onassis, a name that can only be associated with the aforementioned second husband of Jackie, has anything to do with any of that, but OK, I'll play along.
The 2,500 square foot store offers a wide range of tailored classics like a quilted vest ($198, already a best seller), a leather and wool varsity jacket ($498), or an English tweed three-piece suit ($650). A black chesterfield top coat featured a pick-stitched collar ($398), while a brown wool herringbone hunting coat had all the earmarks of the British classic but was shorter and more tapered ($338).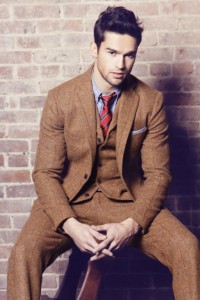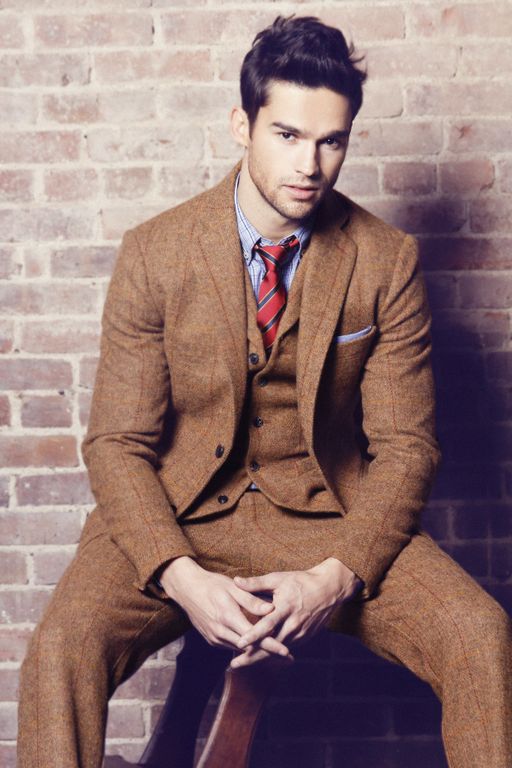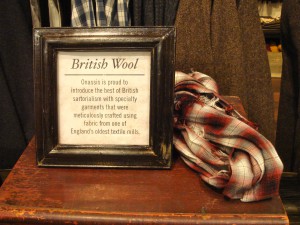 A three-piece suit (also sold as separates) in the brand's signature British tweed. As a set, $650.
"I think our customer is the creative professional who wants to look good but also wants to be practical," says Mitch Silverstein, store manager for the newly opened San Francisco store.
"Creative professional" is a relatively recently defined target customer and one that seems to flourish here in the bay area's Silicon Valley, where plenty are one or the other but not always both. The brand offers a striking collection of dressed up casuals that might certainly make sense for young professionals seeking to make a subtle statement with things like pick-stitching, Japanese denim, and ironic bow ties.
Onassis head of global brand, Shigay Tajima has infused the brand with a kind of Japanese preppy sensibility that is still relatively new to mainstream customers. Details like high-quality buttons, interior linings and finishings, and the use of imported woolens give these classics a modern, more youthful twist. "I think guys are starting to really notice the quality of clothes," says Silverstein. "I think you are getting unique pieces at pretty amazing prices."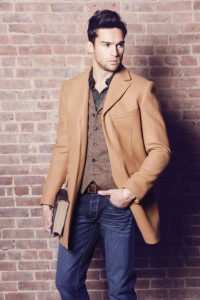 A wool topcoat worn with an one of the brand's British tweed vests. Topcoat, $398. Vest, $168.
The Onassis brand was more or less wooed by San Francisco's Westfield shopping mall which has recently begun repositioning itself to compete with an increasingly crowded downtown retail scene.
The San Francisco store has that vaguely "authentic" vibe that is now so prevalent with many of the city's local boutiques like Union Made, Taylor Stitch, or Freeman's Sporting Club.  The San Francisco store features a lounge space with Bicycle Coffee and bottled waters, and a flat screen TV. One section of the store was identified as "a suit shop" although that wasn't immediately evident since it was floating in the middle of the selling space.
"I'm not sure a mall would have been our first choice for San Francisco, maybe a neighborhood would have made more sense," admits Silverstein, who previously worked for the Theory. "But actually we have a lot of guys who work around here who appreciate the fact that a brand that's less commercial is here in the Westfield."
The idea of a "neighborhood boutique" in a traditional mall setting could very well be a strategy worth watching. Less than three steps away from the store's front door lies the entrance to Bloomingdale's. Next door, J. Crew. Men who pass between the two are precisely who Onassis hopes to influence and convert.
"Our main focus has always been to concentrate on delivering the best possible product at surprisingly accessible prices, in a welcoming 'boutique' environment," says Li.  The brand currently has three U.S. stores and has plans to open more in 2013, including one in Los Angeles.
YOU'RE INVITED. Readers of our blog are invited to the San Francisco store's opening party on November 8, 2012.  6:30PM – 9:30PM. RSVP to onassisrsvp@morris-king.com.  845 Market Street, Level 2.
Related posts: