Bold Moves |
Strategy in Perspective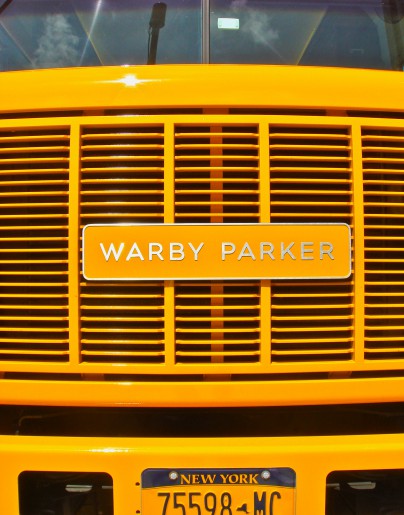 On The Road with Warby Parker's Big Yellow Bus
'Put it on wheels and they will come,' might just be the new retail mantra right now. Hot on the heels of the Pop Up store trend is mobile dining with food trucks as the ultimate cliché in hipster dining, but one that has managed to spell success for all sorts of culinary concoctions (adobo burrito anyone? — yes please.)
But when it comes to fashion, mobile retail is still largely just a marketing tool used to bring a sense of theater and excitement at such high impact events as New York Fashion Week or Milan's Salone Di Mobile. Since last October, however, Upstart eyewear brand Warby Parker has taken a serious stab at using it as a compelling retail strategy with a roving school bus full of spectacles. Dubbed the "Warby Parker Class Trip," the goal to build awareness for the fledgling brand, which currently sells online and through boutique retailers. This week, the brand opened its first Warby Parker store in Manhattan's SoHo.
The company bought and refurbished an authentic vintage school bus, cleared out the seats and installed dark stained wood shelving and cabinets. A tiny glass display case containing exactly two hip flasks, a little plaid hankie, and a monocle: all an urban hipster needs to survive.
Top: The interior of the bus during construction. Bottom: Interior of the bus on a recent Saturday in San Francisco's Hayes Valley.
"The school bus idea came about because the founders of Warby Parker love Jack Kerouac and the whole idea of the adventure road trip," says Phineas Ellis, a marketing assistant with Warby Parker, who's job its been to drive the bus to all 10 cities on the tour. "This is as much a vehicle for selling our glasses as it is for giving people a better sense of who we are."
In keeping with that road trip theme, the bus is stocked with  a small but noteworthy library of classic American literature including vintage editions of On the Road, Catcher in the Rye, and Howl. Originally the plan was to sell the books as well, but that part of the business plan didn't get fully realized so for now, they're just for display.
"We've found that a lot of customers are familiar with the Warby Parker name but they don't know the whole story," says Chris Lee, a suitably bespectacled sales associate. "Here they can see the full range of our collection." Perhaps missing from the customer experience, however, is one important part of the brand story: that for every pair of glasses sold, Warby Parker provides a pair for someone in need through a partnership with the nonprofit, Vision Spring. The inside of of the bus was largely devoid of any messaging or storytelling — a critical opportunity to showcase their mission of value (prices starting at $95 for frames and lenses) and social responsibility.
Clockwise from Top: a young visitor locates the bus's latest location on an old-fashioned roller-shade map; sales associate Chris Lee attends to a customer's order; and a small display case featuring Warby Parker accessories, including the brand's own monocle.
"Warby Parker is still very much a startup, so the bus idea is still an experiment," says Ellis. "One thing we know we need to work on is making sure people understand the brand's social mission, but we want to be careful how we do that. For now, it's our sales associates who do that job."
Meanwhile there are other challenges at hand in these last remaining days of the bus tour — like city permits. "Yeah we've run into some problems and its meant we've had to change our location a couple times," says Ellis. "But all in all, this has been incredibly successful for us. We're already talking about how we'll do the next one."
>>The "Warby Parker Class Trip" completes its final tour in San Francisco on April 12. To find out where the bus is parked, go to www.warbyparkerclasstrip.com.
Related posts: