Notes From Abroad |
Tracking Global Retail
Not just 'The Chanel of Asia': Taiwan's Shiatzy Chen Plans for Bolder Strategy
Even after 35 years, Shiatzy Chen is perhaps still relatively unknown in the global marketplace for luxury fashion. That began to change in 2001 when the brand, which was founded in Taiwan, propelled itself onto the international stage with a store in Paris. Then in 2008, the brand presented a runway collection during Paris Fashion Week.
The brand was quickly dubbed the "Chanel of Asia."
"I don't think being involved in fashion week makes a huge difference for us in terms of sales but it has helped us in terms of positioning," says Harry Wang, CEO of Shiatzy Chen. "In the beginning of course, we had to take a slot on the first or last day, which isn't exactly prime time."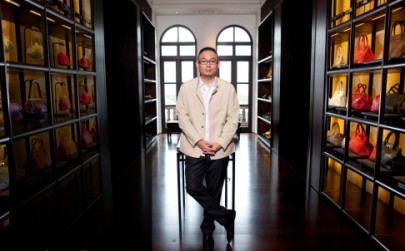 Harry Wang, CEO of Shiatzy Chen at the brand's Shanghai Flagship. "The Chinese customer is ready for something new, and so am I."
After five years, the brand was invited to show at the prestigious Grand Palais, following Chanel's presentation.
"We feel quite lucky," says Wang, clearly still very pleased. "Paris has brought us attention from people we would have never heard from, and from places where we don't even sell our clothes. Russian Vogue, even Elle Turkey."
In some ways, Harry Wang treats Shiatzy Chen like a startup – a startup that moves very slowly. His leg twitches with excitement as he talks, and his eagerness is palpable: he wants new stores, more "youthful" collections, and a bolder presence in categories like shoes and accessories.

Two looks from Shiatzy Chen's recent Paris runway show at the Grand Palais.
All that is not easy, however, when your parents are the brand's founders and creative director.
"Let's put it this way: before, my parents never believed in spending money on advertising. They just didn't believe they needed to. The kind of customer they were talking to didn't respond to advertising. So they said: why spend the money?"
That customer, of course, is the Tai-Tai, the wealthy wives of powerful men who keep all of Asia's fashionable stores in business, not to mention the restaurants, where an ordinary lunch or tea can take hours.
Brands in Asia never like to admit it, but they know it's true: the Tai-Tai keeps them in the black. But that's changing. A new, younger Chinese customer is fast becoming an equally important target market, and Wang knows he must move quickly or else be left behind.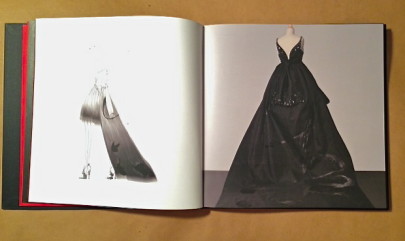 A dress featuring classical Chinese brushstrokes by artist Yang-Tze Tong, calls to mind some of John Galliano's earlier work at Dior.
"Paris gives us the chance to showcase our brand differently and get the attention of a different kind of customer – a more global customer," says Wang. "We style our looks differently for the runway than in the stores and we also show pieces that maybe won't ever make it into a store."
That Shiatzy Chen has been likened to Chanel might seem pedantic and even condescending, but it's actually quite true. The brand manages to bridge Western modernity with centuries-old silhouettes and the couture refinements of high Orientalism, the golden age of traditional Chinese art and design.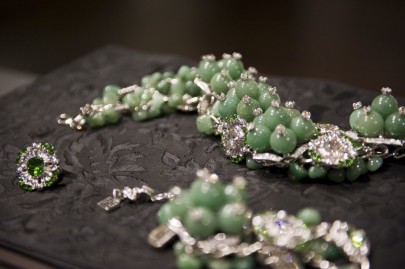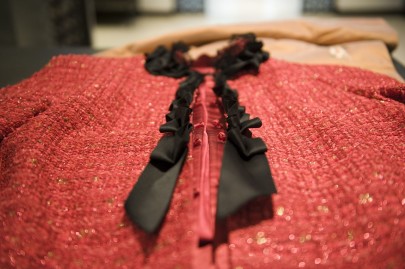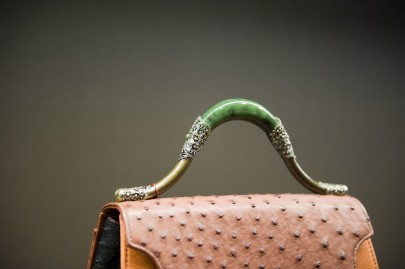 Shiatzy Chen's followers cite the attention to detail, as seen here with a set of costume jewelry, a jacket, and the handle of a purse.
An almost opalescent dress might be inspired by the fragility of a porcelain vase or an ancient snuff bottle. With another, a bold, raven-black brushstroke brings drama to a silk taffeta gown that harkens to the early edginess of Galliano for Dior. Hand-painting, embroidery, and pick-stitching have become hallmarks of Shiatzy Chen's iconic quilted jackets, some even discreetly trimmed in a haze of fur on the inside collar.
Wang admits that managing production and inventory is one of the key challenges for the brand. Of the nearly 1,200 designs that are conceived, only half are manufactured. Quality, exclusivity, and a relatively small store count – the brand currently has only 16 stores – means a constantly shifting strategy to satisfy demand and still stay profitable. Shiatzy Chen does not wholesale.
"Currently our strategy is all about opening stores. We need to improve our strategy for our ready-to-wear and establish an even stronger retail presence in the right locations."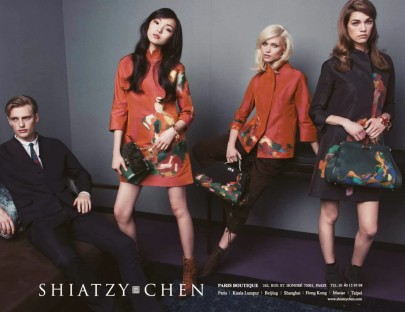 An image from the brand's 2014 campaign.
The retail game in Asia is indeed, a serious one, especially in China. The world's most powerful luxury brands are aggressive when it comes to getting what they want. Brands like Louis Vuitton, Chanel, Dior, and Gucci, are notorious for nailing prime locations on the most fashionable boulevards and the ground floors of shopping malls.
"When we first enter a new market, say a second or third tier city, there will be us and maybe Prada or Miu Miu. Then after three years when the lease is up, the big ones come in and kick everybody up to the second floor and they take the first floor. That's the game in China."
But Wang isn't looking for sympathy. His goal is to be equally aggressive, increasing the brand's store count from 16 to 100 in roughly two years. In just the past few months, the company opened a store in Japan and three new stores in China.
"It's time for the brand to evolve," he says, looking around him at the luxurious interiors of the brand's flagship, a building he plans to entirely renovate. "The Chinese customer is ready for something new, and so am I."
Related posts: