Retail by Design |
THE BRAND EXPERIENCE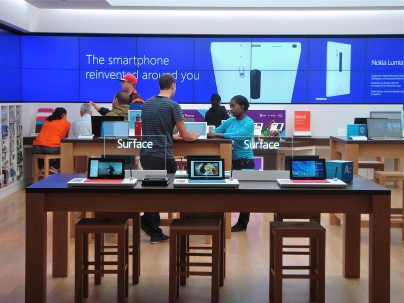 Microsoft Gets its Piece of the (Apple) Pie — with Samsung Not Far Behind
In a little less than four years, Microsoft has finally managed to finally get a shot at what's been a key part of Apple's success, with a growing portfolio of retail stores of their own. For Apple, the store serves to elevate the product and create an emotional connection for consumers. The gleaming glass stores are now iconic and continue to be the gold standard for retailers, who consistently put it at the top of their wish list when they meet with design firms.
Microsoft has always been green with envy and and lusted to have its own sexy and sleek store — even if the brand barely had any actual products to sell. That point was lost on executives back in 2007 when I was senior retail strategist at Gensler, who Microsoft had engaged to design a retail concept for their Best Buy shop-in-shops.
They made their message clear: they wanted an Apple. Big. Glossy. White. A place to showcase how Microsoft can, as the design brief stated,  "help businesses and people realize their potential."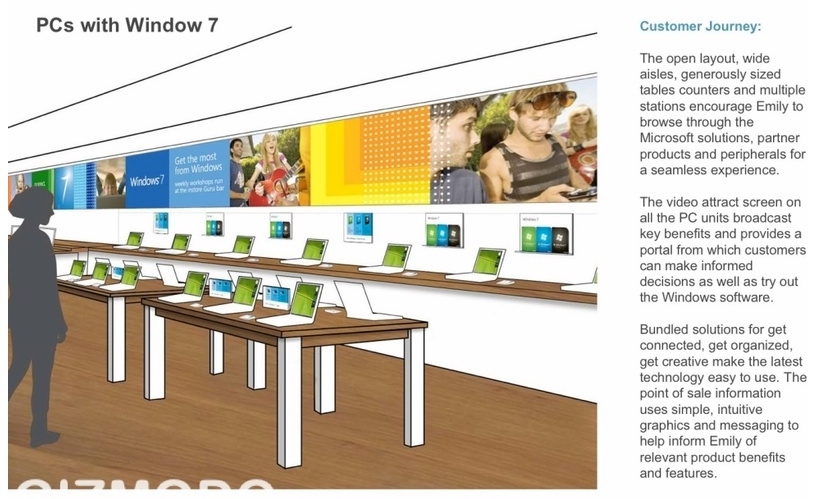 A presentation slide that was leaked to Gizmodo in 2009 reveals Microsoft's clear intention to replicate the Apple store experience. This design concept is visible in the stores being rolled out across the country.
I could hear the angel choir but one important thing was missing: the hero product. A piece of software in a box is not hero material.
Microsoft didn't have anything remotely exciting to sell other than their software, and, oh yeah, Zune, their answer to the ipod which launched to limited success. Why would anybody want to "hang out" in a Microsoft shop? The client was not amused.
But that didn't stop them. The company was relentless and finally in 2009, they had themselves a store.
A recent visit to their latest shop in San Francisco's Westfield Mall, reveals a place that looks strangely familiar: pure white countertops, beveled sheet glass, minimalist signage, and their own version of a Genius Bar, which is rather unimaginatively called the Answer Desk. Ka-thunk.

Top: A giant touch screen display invites shoppers to discover Bing, Microsoft's search engine; A window display for the brand's Windows8 software; and a view of Microsoft's "Answer Desk" — their version of the Genius Bar.
I couldn't help thinking that the uninspired design made it look more like a set for a Saturday Night Live parody of an Apple Store. How could a brand that was once a leader in innovation be so shortsighted in how they position themselves and their products in the retail arena?
As it turns out, Surface, the brand's tablet, could just be their hero product, one strong enough to convert customers. We saw shoppers sidle up to the Apple-esque worktables and try out the tablets, while a staffer positioned at the front of the store demonstrated the Xbox360's Dance Central, inviting passersby to join him in hopping about in front of a screen.
Despite the relatively large size of the store, the company has further leaked out into the public space of the mall with a giant touch-screen telephone meant to showcase Bing, Microsoft's search engine. After a few pokes at the screen, though, most moved on, some not even noticing the store only a few feet away.
Last week, though, Microsoft announced it would be going whole hog and install brand new shop-in-shops in 600 Best Buy stores, some as large as 2,200 square feet.
Samsung's aggressive moves into the market has resulted in faster-than-expected customer conversion, and up to five tablets to Apple's two. Their take on the Apple Store? Well take a look. Their new prototype store, designed by architecture firm OMA, was launched earlier this month at Singapore's VivoCity Mall. The firm — known for the design of Prada stores — didn't use fashion as their primary inspiration, rather, the store seems modeled after software lab's Clean Room. A coffee bar allows customers to brew coffee to their own specifications via an app. Meanwhile a "Galaxy Super Wall" translates customer movement through the store with a digital art display.
If imitation is the sincerest form of flattery, do Microsoft's and Samsung's "copycat"strategy only serve to burnish Apple's er… apple? Not really. The truth is, the average customer doesn't really notice, especially if they've already been converted to the brand's products. With Samsung, for instance, their Galaxy tablets have already begun to win over Apple loyalists. One customer we spoke to said of Microsoft's tablet, "I never thought I'd not use an Apple product but the Surface is pretty great and you can't beat the price."
Related posts: