Notes from Abroad |
Tracking Global Retail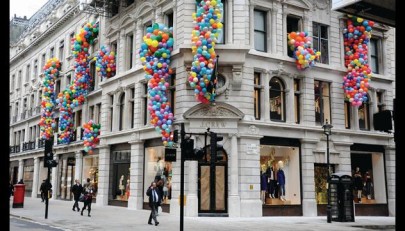 London Leads EU in New Retail — J. Crew and Others Move In
London has managed to keep a high profile when it comes to retail. Here, the department store is still king, and no one enjoys pushing that title around more than Harrods, which just opened a 6,500 square foot satellite at Gatwick airport.
While foreign shoppers account for a major part of retail profits in London, the British do their share. The most recent numbers show the total UK household consumption on clothing and footwear is € 59 billion, with the average British consumer spending about € 900 on fashion, slightly above the EU average of € 700 per year.
Nevertheless, like the rest of Europe, a volatile economy is forcing more and more retailers to get creative. Our friend Darren Coleman, managing consultant at Wavelength Marketing in Birmingham, took us on a tour and shares his thoughts on why London continues to be a retail destination.
"I think it's fair to say that London's department stores have really upped their game," says Darren, whose client projects frequently take him to retail meccas throughout Europe, Asia, and the Middle East.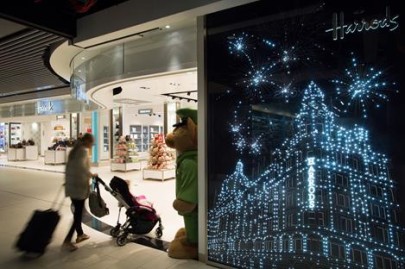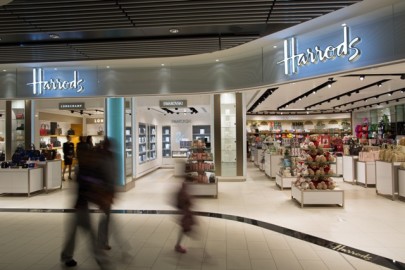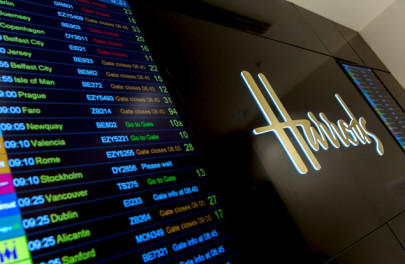 The new 6,500 square foot Harrods outpost at Gatwick Airport smartly features boldly visible flight departure times to take the anxiety out of  shopping, while an LED display of the iconic department store reminds travelers of the brand's heritage. 
"Even slightly more mainstream outlets such as House of Fraser and John Lewis on Oxford Street have adopted Harrods and Liberty levels of service. The experiential side of retail is something more department stores are tuning into as a point of difference and as a way to compete with online brands."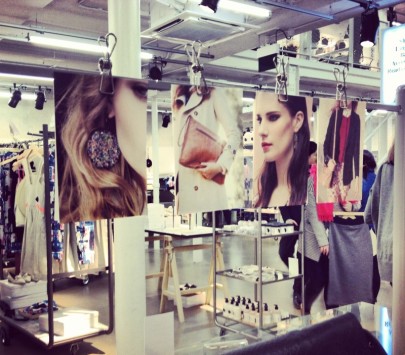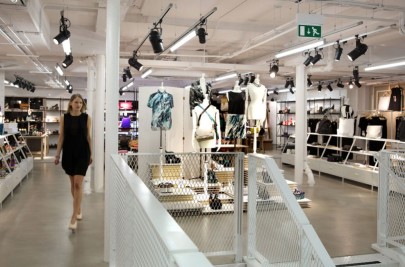 & Other Stories, a retail concept launched in March by H&M, is the company's newest strategy of targeting a more sophisticated upscale customer.
While Oxford Street has lost much of its cachet, the area around Covent Garden and Regent Street is red hot. In March, H&M opened the first of its new concept brand called & Other Stories, with a very stripped down, bare bones design featuring plain white fixtures and visual merchandising built around entire looks, complete with photographs of models wearing the looks pinned onto the mannequins.
This week, all eyes are on J. Crew, which today opened its new flagship store, following the opening of a men's store over on Lambs Conduit Street. A third store is planned for Brompton Cross in fashionable Knightsbridge.

Top: prior to opening, the façade of the new J. Crew flagship featured an art installation of London cabs by Shona Heath. Below: the store's interior.
The front of the brand's new store features Rococo London Cabs that were built to scale, and are jostled bumper to bumper along the exterior of the building's façade. J. Crew commissioned set designer and artist Shona Heath for the project, and the cabs were installed well in advance of the store's opening.
J. Crew will be in good company. "You've got Paul Smith over on Floral Street, and Barbour on Carnaby, both very close to Covent Garden," points out Darren. "Of course those looking for more panache can pop over to Liberty of London which simply oozes London class."
Liberty, With it's oh-so-British Tudor façade, has made huge strides in evolving from a slightly dowdy store of yore to a trendsetting lifestyle brand, thanks to a flush of capital from private equity firm BlueGem Capital, worth a reported 32 million pounds.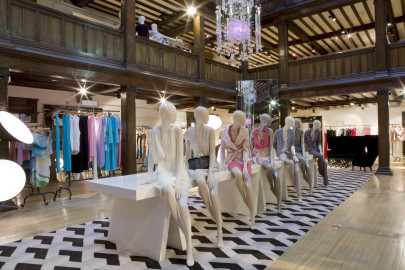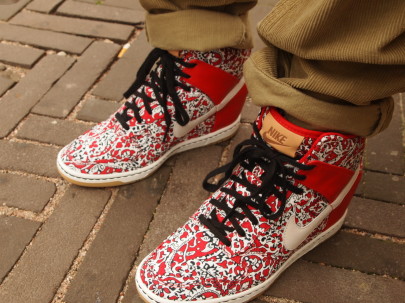 Liberty of London's iconic Tudor Renaissance architecture offers a bold contrast to modern fashion. Below, a pair of the brand's limited edition collaboration with Nike, which launched this week.
The brand has deftly squired numerous exclusive designer collaborations. This week it's a limited edition collection with Nike.
From Covent Garden it's only a ten-minute walk to Soho, which continues to be where the cool kids shop.  "Supreme has crafted an interesting experience," says Darren, as deep house beats drift throughout the store. "And with the merchandise they've displayed on the walls as if they are pieces of art."
Darren says Hoxton and Shoreditch have grown into the hipster destination, with a thriving bar scene. The Hoxton Hotel acts as the district's fashionable center, as so many boutique hotels tend to do these days. "This tends to be where the creative crowds congregate."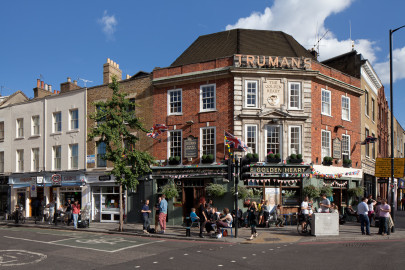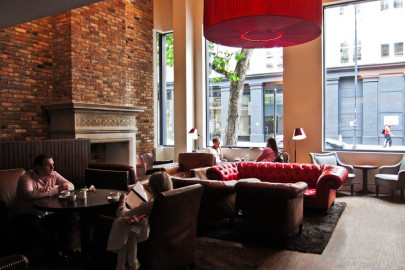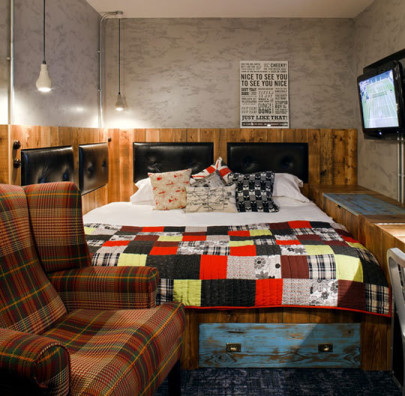 Shoreditch and Hoxton have flourished with an influx of new retail and renovations. The Hoxton Hotel is hipster central, with rooms that feature plenty of pop and kitsch.
Still, empty storefronts are as much a plague in London as in other global cities [read our blog about Storefront.]  A recent report estimates that there are up to 7,000 empty storefronts in London alone. Enter Pop Up Britain, a concept developed by entrepreneurs that helps emerging businesses find a home.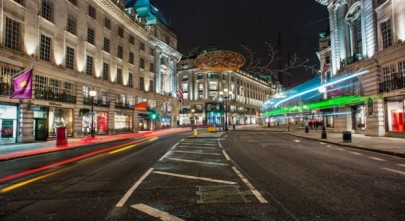 London's Regent Street has become a sought-after location for new retail.
"Brands are increasingly using pop up shops as a way to express their brand via engaging experiences," says Darren. "House of Holland recently had an ice cream van roaming around London which stopped in key spots to sell their designer clothes. They teamed up with these funky artists named Craig and Karl.  It became a showcase of something very 'London' and cool. A great fit in terms of brand, experience and art."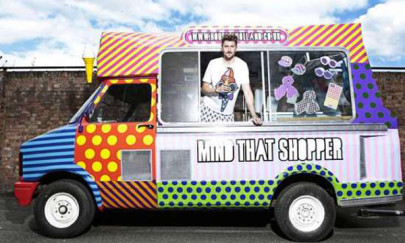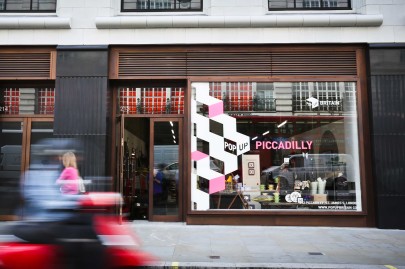 Like in other cities, PopUp retail has brought a sense of excitement and urgency to the shopping landscape, such as House of Holland's wittily designed mobile store, at top.

It's a sign of the times and one that, in particular, points to the evolving tastes of young consumers. Content-rich, experiential retail, regardless of its status or price, is what matters now. And whether here or in Paris or Hong Kong, shoppers are looking for brands that take an altogether different approach to selling goods.
"The buzz surrounding hipster cool London brands that are new and fresh like Volcom, is going strong," says Darren. "Nevertheless it's interesting to see how the market does appear to be polarising consumers in certain respects."
>> Learn More about Darren Coleman and Wavelength Marketing @ wavelengthmarketing.co.uk.
Related posts: