Bold moves |
STRATEGY IN PERSPECTIVE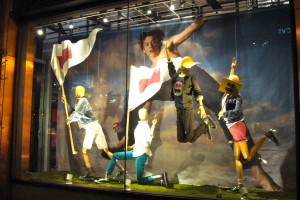 Levi's and Opening Ceremony Launch Limited Edition Collection
(SAN FRANCISCO) – If you're old enough to remember wearing matching corduroy jackets and pants then the following may be a road to nostalgia you won't want to follow.
Then again plenty were happy to last Friday night, when roughly 500 people showed up at the Levi's flagship store in San Francisco to celebrate the collaboration between the world's preeminent jeans brand and the cultish retailer and design group, Opening Ceremony.

Opening Ceremony, with stores in New York, Los Angeles, and Tokyo has been consistently collaborating with the likes of Chloe Sevigny and Spike Jones and creating limited-edition collections of downtown streetwear that begs the question: are you cool enough?
Plenty were on hand to cop a feel of their collaboration with Levi's with a collection of 1980's 505 corduroys in colors described as  teal, fuchsia, lavender, olive, curry, navy, and optical white. I haven't heard the word "teal" since, oh, about 1987. A bicycle covered in teal corduroy marked the way, guerilla marketing style, in front of the Levi's store (and supposedly others were placed throughout the downtown area.)

The party hubbub began on the ground floor of the Levi's store where a special Opening Ceremony boutique/ pop-up installation was created just for the occasion, along with a stunning collection of visuals by photographer Ryan McGinley.
The very Shiny-Happy-People vibe seems just right for these dark days of retail. McGinley's visuals includes shots of tender young things wearing the vivid corduroys while floating against an endless sky.

Opening Ceremony's Humberto Leon and Carol Lim were on hand (with what appeared to be their entire families in tow) and were warmly greeted by fans and a retinue of hipsters one usually only sees  at 6AM when H&M is rolling out a limited-edition collection from Comme Des Garçons.

And while we didn't see anyone wearing cords at this event, we're pretty sure we'll be hearing that nostalgic sound of two corduroy-encased thighs walking down the street Zirrh-Zurrh! Zirrh-Zurrh!… ahhh, it's 1987 all over again.
The entire collection of cords are available at select Opening Ceremony and Levi's stores as well as globally at specialty retailers such as Barneys, Fred Segal, Joan Shepp in the United States, and at Colette (Paris), Liberty (London), Lane Crawford (Hong Kong), Incu (Australia), Henrik Vibskov (Copenhagen and Oslo) and c2k (Istanbul).
Related posts: