Retail by design |
The brand experience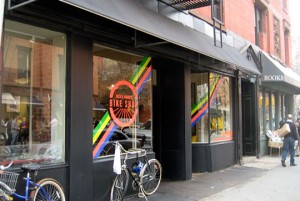 Jack Spade Has A Brand New Bag
When Andy Spade and his wife Kate sold Kate Spade, the company they founded together, I'm sure many wondered what could possibly be next. Andy held tight to Jack Spade, the bag company which always seemed like the wayward brother to Kate's sugary Pollyanna collection of debutante accessories.
Andy then opened Partners & Spade, a company that is a triumvirate of all the things he loves: publishing, consultancy, and art-and-stuff-I-love gallery.
The Shophound tells us that now comes Jack and Jimbo Bike shop, a new shop in Manhattan devoted to vintage and custom bicycles from the famous Jimbo the Mechanic, Rapha Cycling Gear, and Landmark Bikes. Of course there will also be Jack Spade gear for sale as well. Jack & Jimbo's Bike Shop at Jack Spade 400 Bleecker Street between West 11th & Bank Streets, West Village.
Related posts: