Notes From Abroad |
Tracking Global Retail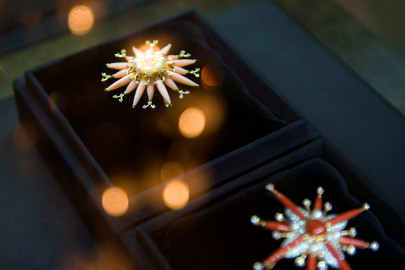 In Taiwan, Luxury Jewelry Brand Galene Takes an Unconventional Approach – And Customers Respond
According to the most recent McKinsey report, annual global sales of fine jewelry is expected to soar to over $200billion a year, with a year to year growth percentage of 5 to 6 percent. That number jumps to $335 billion by 2020.
Nowhere is this growth happening faster than in Asia where, in places like China and South Korea, high jewelry is rich in cultural significance and ceremony. Here, Jewelry is purchased as much for its intrinsic value as for its symbolic power, especially where fine stones are concerned. While all of the major jewelry brands are well represented in Asia's big cities, it is the small and highly specialized jewelers who are gaining influence over the modern luxury customer.
Galene is one brand you've probably never heard of, and for now, that's entirely intentional. Yao-Lien Wang and Wayne Wang (no relation) are Taiwanese designers and entrepreneurs who, after receiving graduate degrees in the U.S. and the U.K., returned to Taiwan to launch Galene, a luxury jewelry brand centered around precious coral. Their approach is that of a stealth luxury player — and it's working.

The founders and designers of Galene, Yao-Lien Wang (left) and Wayne Wang (right). "Jewelry is not about just adornment, but about carrying something with talismanic powers."
"Coral is in my blood," says Yao-Lien. He almost means that literally. His family has been working in precious coral since he was a child, and his father is well known amongst gem buyers for his passion and talent in finding some of the world's most beautiful raw, deep sea coral. Precious coral is not the same as reef coral which is illegal and environmentally protected, but it is regulated and the best finds continue to command high prices.
"Galene is about rarity and craftsmanship, so our audience is people who aren't impatient and can appreciate our work on a very intimate and personal level."
The pair began developing their first collections in 2008 with the goal of challenging Asia's current market offer of ultra-luxury jewelry with limited and bespoke collections. Their slow and steady approach has allowed them to refine their product and go-to-market strategy.
"From the beginning, we went through a process to determine where we wanted to be in the market," explains Wayne. "There's a lot of stuff out there that's in poor taste but it still sells. None of that is interesting to us and besides, that market is saturated. We wanted to introduce a new aesthetic, something more international yet still very Asian."
In Taiwan as well as elsewhere in Asia (most notably Hong Kong), traditional jewelry stores are often gaudy and garish, packed to the rafters with gold chains, diamonds, and of course plenty of jade. To stand out in such an environment means not only a more sophisticated market offer but also an entirely new brand experience.
At top, a selection of rings set in 18K rose gold, featuring precious coral and diamonds, sapphires, and tourmalines. Below, two signature brooches from the brand's collection.
b. on brand worked with the team to refine the brand positioning and develop the name and story, and core values. Our goal was to position the brand as uniquely international in spirit, yet distinctly Taiwanese. For the name, we found inspiration in coral's significance during Greco-Roman times. In Greek mythology, Galene is the goddess who personifies calm seas. Yao-Lien's master's design project centered around coral's social and cultural history in the Eastern and Western worlds.
"Wayne and I never really argued about what the collection should be about," explains Yao-Lien. "We both are obsessed with a lot of the same design and aesthetics: some gothic, Art Deco, and Italian modernism. We both believe that jewelry is not just about adornment, but about wearing something with talismanic powers. Coral is powerful."
"With echoes of vintage Bulgari and Cartier, one can instantly imagine how the brand could have appealed to the likes of Elizabeth Taylor or María Félix."
A pair of 18K white gold earrings set with oxblood coral, diamonds, and sapphires.
The team worked for well over a year on the first capsule collection, critiquing and revising each and every piece as they went along.
Each of Galene's collections features coral and include other precious stones such as diamonds, sapphires, and amethysts, all set in 18 carat gold. With echoes of vintage Bulgari and Cartier, one can instantly imagine how the brand could have appealed to the likes of Elizabeth Taylor or María Félix.
At their first exposition held at the Palais de Chine Hotel in Taipei, more than a few women thought they were Elizabeth Taylor. A frenzy erupted over a crucifix that was on display but not for sale. For weeks after the show Galene received calls from women (and one husband) pleading to let them buy it.
"Quite honestly, we were a bit freaked out about that. We just had no idea what people would think of our work. Our parents were completely shocked," says Wayne.
In Mainland China, word has gotten out about the designers ,with customers from Beijing and Shanghai setting up appointments for custom pieces. Nevertheless, even at this early stage the partners are cautious about the brand's image.
"If we go the route of producing on a very mass kind of level then that means we have to create collections that appeal to a mass audience," says Yao-Lien. "That's simply not who we are. Galene is about rarity and craftsmanship, so our audience is people who aren't impatient and can appreciate our work on a very intimate and personal level."
In some ways, the partners have an unlikely chemistry. Like yin and yang, Yao-Lien is the moody and romantic one — one moment a golden sun shining on a calm sea, then suddenly a storm with thunder. Wayne on the other hand, is cool and controlled and measures his emotions. In their work, his minimalism balances Yao-Lien's extravagance.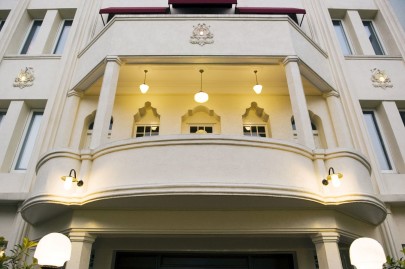 The former Far East Hotel, an historic 1930's building that has been part of Yao-Lien's family for decades. It was recently renovated to become the company's offices, atelier, and showroom.
"There are a lot of times when our parents don't really understand what it is we are doing," admits Wayne. "They think Galene should be more commercial and that we should be selling, selling, selling. But that's just not possible for us. Even with the success we've had they still argue with us."
Case in point, Galene's atelier and showroom is not in Taipei, or even Hong Kong, but in a remote part of the southern countryside in what was once an Art Deco hotel– not exactly accessible to the ordinary luxury customer.
Nevertheless their decision to set up shop here gave them instant buzz. Formerly known as the Far East Hotel, The building is a maze of high-ceilinged whitewashed rooms, period tiled floors, and mysterious passageways. A staircase spirals ever higher until one finds oneself on a sprawling terrace above the town, with views out to the surrounding rice fields.
"A place like the Far East Hotel is an important part of our brand story," says Yao-Lien, "It is really a magical place and really tells the story of Taiwan and of a lifestyle that no longer exists. If you look at our jewelry in our boutique, the energy of the hotel and the romance is part of the experience."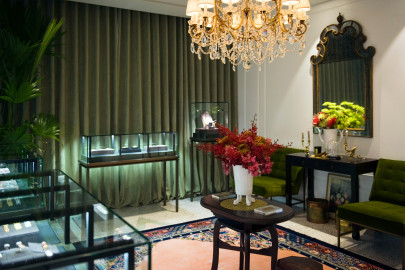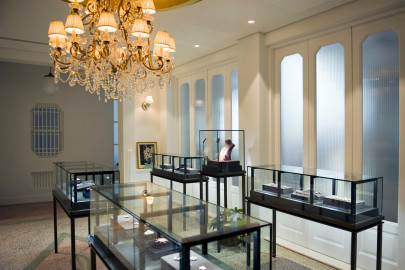 Two views into Galene's principal showroom on the building's second level. The massive hotel includes several other wings which have yet to be renovated.
Indeed, to wander the former hotel's halls and enter its elegant rooms is to step back into Taiwan's colonial past. A massive crystal chandelier and palms add to the atmosphere. Tea is served in the finest bone china from Japan, and petit fours on tableware from Astier de Villate. The soundtrack is Wong Kar Wai's In the Mood For Love.
Silk velvet drapes, imported Tibetan carpets, and custom-made wenge-wood furniture lend an air of continental refinement, the kind of place where the Last Emperor might spend his last days, having his last cup of tea.
"Everyone wonders what goes on in here," says Wayne, "Sometimes we get some of the village people knocking at the door and they ask 'can we come in?' and I say 'No — you can't.'" Wayne's years studying in England make his "no – you can't" come out clipped and very British.
But Galene is not entirely inaccessible. The company showcases its collections once a year in Taipei and accepts visits to the showroom by appointment.
"The people who shop with us appreciate the secrecy and privacy," says Wayne. "They don't want people to know what they're buying. They like the idea of coming to this unique environment to shop and experience the jewelry."
Galene's next invitation-only presentation will be held January 11-12, 2016 at the Mandarin Oriental Hotel in Taipei City, Taiwan. Showroom visits are by appointment only. info@galenejewellery.com for more information.
>> Read more from the McKinsey report, "A Multifaceted Future: The Jewelry Industry in 2020." Click here.
Related posts: