Notes From Abroad |
Tracking Global Retail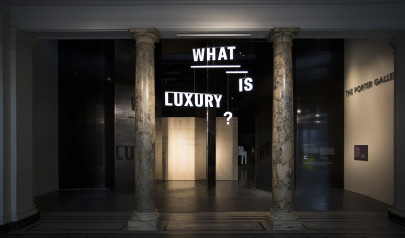 In London, V&A Exhibition Explores the Meaning of Luxury
It is virtually impossible to escape the word "luxury," so much has it become an almost commonplace word used to describe almost anything. Where once, we felt quite sure of its meaning we are now much less convinced.
The latest exhibition at London's V&A doesn't shy away from asking the question – and many more – with the exhibition, What is Luxury? (through September 27, 2015.)
"Definitions of luxury are always changing depending on the condition we are in, which is informed by political, economic and cultural factors," says V&A co-curator Leanne Wierzba. "By presenting our selection of objects together, the exhibition addresses how luxury is made and understood in a physical, conceptual and cultural capacity and gives many possible options of what luxury could be. We show that luxury is innately personal."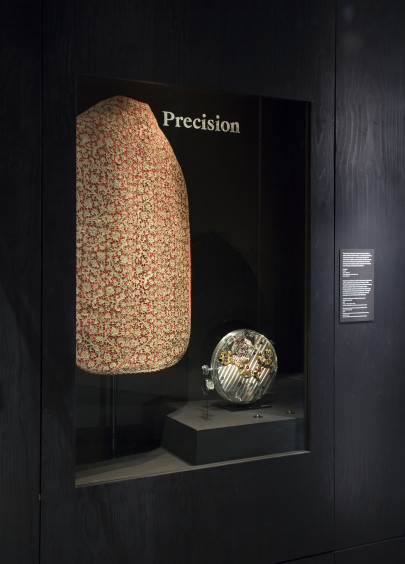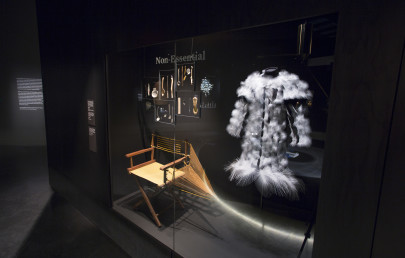 Two views of the exhibition's installations: at top, a Venetian embroidered Chasuble, while below, Iris Van Herpern's Voltage Dress (2013).
It is perhaps this that makes the exhibition so compelling, because it forwards the notion that luxury is no longer a universal definition, rather, it is based upon the very personal quest for the rare and elevated experience.
Of course the opulent and exquisite are included: we see an ornate Portuguese crown, a 17th century Venetian Chasuble (priestly robe), or an ornate and lavish 18th century Indian Howdah, a kind of carriage used for riding elephants.
What, were you expecting a bespoke Louis Vuitton luggage piece or a Harry Winston diamond necklace? Don't' be so plebeian.
The exhibition's goal is more to mine the purest and abstract interpretations of luxury and challenge us to find their often-elusive "luxurious" qualities.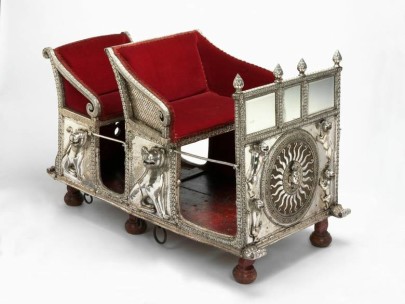 At top, an Ecclesiastical crown, ca. 1750; below, a traditional Indian Howdah in silver, iron, wood, velvet and mirror glass, circa 1840. 
"Along with our ideas about luxury, the language used to describe it continues to evolve, "says Wierzba. "Today, ideas like privacy, security, well-being and time are becoming important to our understanding of luxury."
Luxury is also about the ability to retrieve what was once commonplace and is now so terribly precious. One piece entitled 'Time for Yourself', by Marcin Rusak and Iona Inglesby, is a survival kit for getting lost with a compass that sends one in random directions and a watch without a dial.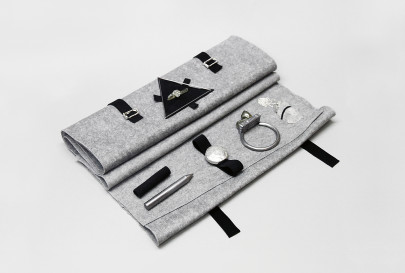 Time for Yourself (Marcin Rusak and Iona Inglesby, 2013) explores the notion of "luxury" as getting lost, with a tool kit designed for just that very purpose.
From artist Gabriel Barcia-Colombo, we are presented a vending machine stocked with actual DNA samples, a message about our loss of privacy and the evolution of the designer human.
Perhaps most poignant, however, is our quest for what continues to be the most luxurious thing of all: time.
"Any experience of luxury is fundamentally grounded in space and time, and increasingly space and time are viewed as luxuries in their own right. This has very little to do with expense and comes down to something that is ultimately very humble and human; it is about enjoying special moments and breaking free from daily routines."
>> What is Luxury?, a V&A and Crafts Council exhibition sponsored by Northacre. Through September 27, 2015 at the Victoria and Albert Museum in London. For details click here.
Related posts: