in conversation |
THOUGHT LEADERS AND ICONOCLASTS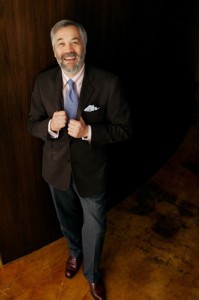 The Cult Behind Kiton: Brand Chairman Massimo Bizzocchi Explains
Massimo Bizzocchi is the Chairman of the Kiton Corporation, producer of arguably the finest (and maybe the most expensive) suits in the world.
But Kiton  (pronounced kee-tun) is also one of the most discreet Italian brands you'll find. There is little to no advertising and no obvious logo. We are seldom told that a celebrity is wearing a Kiton on the red carpet — although if he's someone like George Clooney, he probably is. Founded in 1968 by Ciro Paone, Kiton is the quintessential example of Neapolitan tailoring: less structured than a Brioni, more svelte and body forming than an Armani.
Of all Italians, Neapolitans are perhaps the most flamboyant and obsessive when it comes to tailoring. A stroll down Via Montanapoleone in Milan is like stepping into a scene from "La Dolce Vita," with huddles of young men in knife-sharp suits, admiring one another not to mention themselves.
I met with Mr. Bizzocchi one Saturday afternoon after a private party at San Francisco's Neiman Marcus, and he shared the story of the Italian and his passion for tailoring.
I actually wanted to be a diplomat, but you know, in Italy it is about connections and my family is not of high rank or part of government. We did not know anybody in the Vatican, so I decided to work in international business, with something I know very well: the Italian tailored suit.
You see from the time I was 6 or 7 years old I would spend Saturday afternoons in the wintertime with my father in the tailor shop. My father would be there talking to friends and drinking coffee and smoking cigarettes. This is part of the Italian culture: to take time with your tailor and watch him make your suit. It is like the barbershop in the United States. It is the place you learned to be a man.
This is the beauty of what a brand like Kiton continues to represent. Too often you see someone wearing a suit and they look "Tom Ford" — not like themselves.  We don't want that, we want the man to be himself.
When the consumer is buying the product and putting the product on, he is the architect, he is the designer, he is the mood, he is the mind, he is the evocation; he is all of those things make the man different because of how the suit changes how he feels.
This is where all the Neapolitan heritage of tailoring comes out.  The Neapolitan tailor developed their style based on the desire to make everybody feel very comfortable but making everybody also looking very natural. We are not trying to make a man with a sloped shoulder looking like he has a straight shoulder. We are leaving his shoulder but we will correct other details in order to make him look good.
Ciro is a genius in interpreting that style of life, where people are in love and enjoying themselves with clothing. This is why the Italian people enjoy dressing up a lot, because this is part of expressing how they feel about life. A man walks around in a suit and he is telling people: this is who I am. Now people go in jeans and t-shirt and they are anonymous.
Ciro is such a maniac that he will walk to a suit a touch all the buttonholes to make sure they are not stiff… he wants them soft, and he tells the tailors to use the correct number of threads for the fabric. He can feel with his fingers if there are too many threads in a buttonhole.
Did Ciro know about the American market before he decided to open in the U.S.?
He knew Ralph Lauren was very powerful in U.S. and he met him once when Ralph was in Italy. So when he go to New York for the first time, we go to Ralph's big office building but we are told we cannot see him and that we must make appointment. Ciro gets very upset and he says to me, "No, tell him we are here! Tell him that we ate mozzarella together in Napoli!"
Finally Ralph Lauren comes out and says hello and Ciro gives him a beautiful jacket to try on. Ralph says, "Oh Ciro, it is very nice!" and Ciro says, 'Thank you," and takes the jacket back. He shakes Ralph's hand and he leaves. And we never saw Ralph again.
Read more about Kiton's craftmanship and one man's experience ordering a custom jacket, in a story exclusive to the San Francisco Chronicle. Click here.
Related posts: