In Conversation |
Thought Leaders and Iconoclasts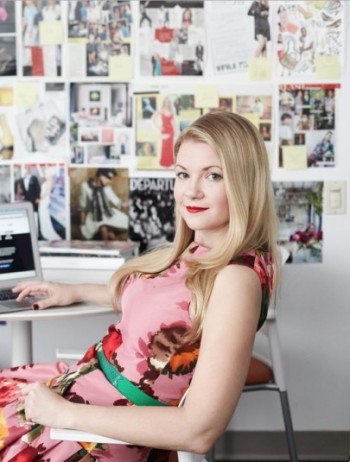 Heather Marie, Founder and CEO, Shoppable | Is e-commerce still the Retailer's Achilles Heel?
Heather Marie speaks her mind when she lists out the numerous instances when conventional retailers waste time on futile digital strategies – or non-existent ones — and she's right: it's 2014 and there's no excuse to be so far behind.  
Heather should know: the 30-year old founder and CEO of Shoppable, the universal checkout technology that empowers retailers, publishers, and merchants with a proprietary suite of technology tools, is whip smart and has been instrumental in optimizing the caliber of digital platforms available to virtually anyone who wants to grow their e-commerce footprint.
When she was 11 years old, Heather launched her first venture on eBay, and by the time she had finished college, had landed one of several key roles with Affinity Labs (acquired by Monster Worldwide in 2008), overseeing the post-acquisition period while simultaneous leading the company's national lead generation sales strategy for all five of the U.S. divisions.
Just another tech head?
Hardly. Heather has also put in seven years with mass retailers such as Ralph Lauren, Express, and Abercrombie and Fitch, and in 2008 launched the concept for a multi-platform, universal checkout program designed to activate and monetize all those "wish lists" out there.
Shoppable, formerly known as 72Lux, has recently experienced a big growth spurt as more and more retailers discover how woefully behind they are with their digital strategies. Despite the exponential growth of mobile e-commerce  plenty of brands are still lagging. A recent eBay Enterprise Study forecasts mobile e-commerce sales to hit $100billion by the close of 2014 — but that 68-percent of online retailers report having no plans to make substantial investments in mobile before this coming holiday season. So what's the hold up?
BERTRAND PELLEGRIN: Other than Net-a-Porter or Asos, There is still a lot of reticence on the part of retailers to invest in more nimble, relevant e-commerce. It's baffling.
HEATHER MARIE: I agree… the fact is, retailers are not inherently tech companies and therefore e-com and technology are still new to them. Many are on outdated legacy systems and need to upgrade to newer, e-commerce software. I think the other hold up is actually hiring more technical team members and leaders within the organization who are focused on this. There is enormous room for growth both in innovation and new revenues.
In its earliest incarnations, e-commerce grew in fits and starts. What were some of the principal challenges when platforms were being developed early on? 
With any platform, the challenges are two fold. First, being able to have a business and technical vision of how the platform will grow so you can structure the architecture to support it, and secondly, is the unknown of how technology will change year over year. It's obvious that you want to build and structure a platform for scale, but the technical architecture
When you launched as 72Lux, how was the consumer searching and creating wish lists? Has that changed today?
Four years ago, consumers could only create a wish list at an individual retailer's website, and some didn't even offer that.  Personally, I often forgot about the wish lists that I created and products I wanted to save for gifts but had no easy way to do so. As a result retailers lost that revenue. Now, with Shoppable Wish Lists, consumers can keep all of the products from multiple retailers on a single wish list. It's a lot more convenient for consumers. Shoppable Wish Lists also allows them to organize their wish lists and set price alerts so they are notified as soon as a product from their list goes on sale.
Social media platforms continue to be major forces for how consumers make shopping decisions.
They absolutely are…
So what's Shoppable's strategy for making key influencers brand ambassadors?
Our social strategy hasn't launched yet so I'll have to keep that one quiet. Everyone will just have to check the site later this year for the update.
Last year Shoppable's mantra was to "turning publishers into retailers." Has the mantra changed?
Our goals as a company are exactly the same today as they were three years ago, but they we are growing our market. In the beginning we focused only on traditional publishers, but now the term "publishers" represents anyone making their website or mobile application Shoppable.
And what about the efforts made by more traditional media to monetize their editorial — Condé Nast, the New York Times, and the Wall Street Journal?
I would disagree with the notion that traditional publishers haven't been successful with commerce. We have data that shows publishers who implement an ecommerce marketing strategy are very successful. To successfully add new revenue, however, requires investment. It isn't something you launch and "test" for a week or two. Some people misunderstand that. It's a new, improved user experience and requires publishers to introduce it properly to their users. This can be the difference between being successful or not.
What mistakes have you seen them make?
Some publishers have gotten caught up in trying to hold inventory or build their own ecommerce software, but that's simply not their core business. One publisher took two years and had more than $1Million to build it. They can sink themselves by trying to build it on their own because there is not only a lot of architecture to build and BD deals to close, but there is also a lot of daily maintenance needed and of course your users will always want new features. One of the advantages of licensing software is a publisher can launch quickly and will automatically get new features and bug fixes. The most important thing for traditional publishers to do is to focus on the front-end UX and marketing strategy for their shoppable sites.
>> Discover Shoppable. Follow Heather on twitter: @HeatherMarieNYC
Related posts: