Retail by Design |
THE BRAND EXPERIENCE
Guided by Voices: Measuring Social Media's Impact on the Customer Journey
Some of the world's top retailers may be investing heavily in e-commerce but they're still skeptical when it comes to social media. And while only about two percent of overall web traffic for department stores comes from social media, that doesn't necessarily mean there isn't potential for it to have a greater role in a brand's strategy.
This and other insights were recently published in a recent study from L2, New York University's Luxury Lab. It's Nordstrom that stands out from the rest with its overall digital strategy adding over 100 new features to Nordstrom.com, but surprisingly, only Saks and Lord & Taylor use auto-detect to identify a user's location via their IP address. Location identification is increasingly becoming key in aggregating a consumer's needs and purchase intent. So why are so many brick-and-mortar retailers still late to the party? More on that later.
"We're finally waking up and realizing that the world is a different place, one where the customer is empowered, connected — and distracted."
That's Ron Rogowski from Forrester Research, who was one of dozens of presenters at this year's SDL Innovate conference on global customer experience management held in San Jose, California. For some, this and other revelations on the state of customer experience in the digital space only underscores the fact that many brands still aren't listening enough to what customers are saying – nor are they using the right tools to measure and analyze what they're saying.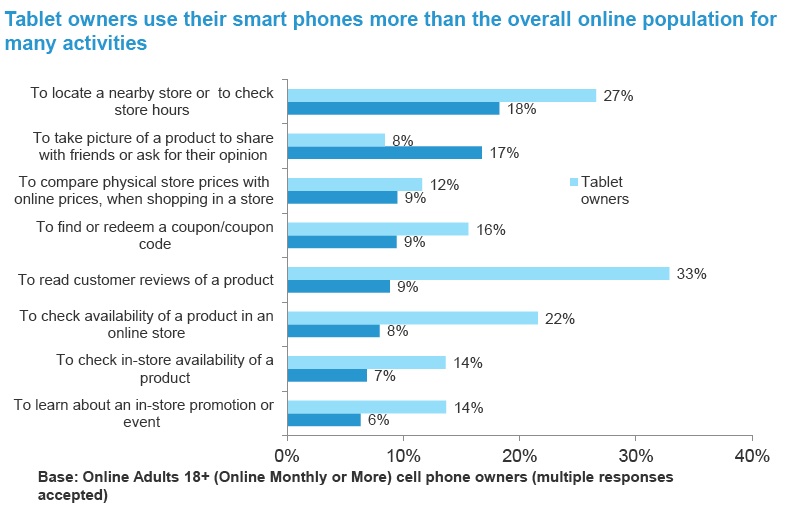 Courtesy Forrester Research, Inc. 2013.
SDL is a technology services network that specializes in customer experience management (CXM) and has helped over 1,500 companies mine their customer data.  Firms like Sprint, Exxon Mobil, LG, and the Mandarin Oriental.
"The customer journey process is not linear, it's circular," says Rogowski. "There are other sources that are influencing the customer journey, which means you have to know how to stay with that customer and give them the information they need, no matter where they are on that journey."
Tracking and measuring that journey is precisely what SDL and it's partners came together to discuss and demonstrate throughout several halls and ballrooms at San Jose's Fairmont Hotel. However it's SDL's proprietary dashboard technology that specifically allows firms to closely monitor their brand health in the face of the competition, and turn social media into a key insight tool.
"A luxury brand, for instance, can have a very masterful marketing strategy, but its the social conversations which are ultimately driving what people will decide to think about your brand, in turn, influence others to think," says Mark Lancaster, SDL's CEO. "Brands are essentially powerless unless they begin using the right tools to listen more carefully to what people are saying and then turn that insight into actionable strategies."

Increasingly, the customer journey towards a purchase or purchase-intent is becoming circular rather than linear, with pieces of information gathered along the way from social conversations happening in the digital space. SDL Technologies has championed tools which allow metrics to be applied to social media's influence.
Typically, customer experience has been the domain of the CMO, but that's changing.
Now, it's the CIO who is in the hot seat, with some organizations specifically hiring "hyphenated" CMO's who are well versed in state-of-the-art information technology. Where once a CMO tracked a campaign's success through traditional marketing programs and sales conversions, the tools are now not only more precise, but more insightful.
"It basically finds the buying patterns and distills the meaning behind the behavior," says Lancaster. "It bypasses the classically segmentation and focuses on the number of people who are following a specific process in their customer journey."
"They're crossing multiple streams of information," adds Rogowski. "The sequence of touchpoints, whether from a PC, mobile, or tablet means they are beginning the experience one place and finishing it somewhere else."
That's an important point, especially when considering the ever-powerful and ever-fickle millennial customer. Retailers still struggle with being able to understand what this important target customer thinks.
Can they delay any longer when social media in particular, has become such an instrumental KPI?
"Companies have mainly used social media data for listening, tracking overall sentiment, brand mentions, volumes, and other social media measures that are not directly connected to addressing the issues that matter most to their customers," says Dave Clark, vice president of marketing for SDL.
"In today's marketplace, where a brand's customers and prospective customers are more connected than ever, companies can no longer simply address the 4Ps [pricing, promotion, product, and placement] to remain competitive. Instead brands must focus on enhancing the experiences that raise awareness, convert shoppers into customers, and customers into advocates."
In 2010, Gatorade made waves with a "mission control center" which engaged millions of consumers with the brand through social media.
Customer insight technology doesn't replace other kinds of metrics; rather, it enhances existing KPI's in order to get a deeper understanding of a customer's needs, motivations, and critically, their future intentions. In an ideal world, the smart brand is able to cull insights, turn those insights into company-wide actions, resulting in highly contextual customer experiences.
Rogowski agrees, and says most companies are still woefully behind, with websites, mobile apps, and facebook pages that don't necessarily offer a seamless brand experience, nor the meaningful information for the time and place in which the customer needs it.
"The smart, contextual interaction is what will define the successful customer experience. Understanding their history and what people do. Using analytics, we have to find the behavior patterns. This is why mobile is such a great delivery mechanism for this kind of information."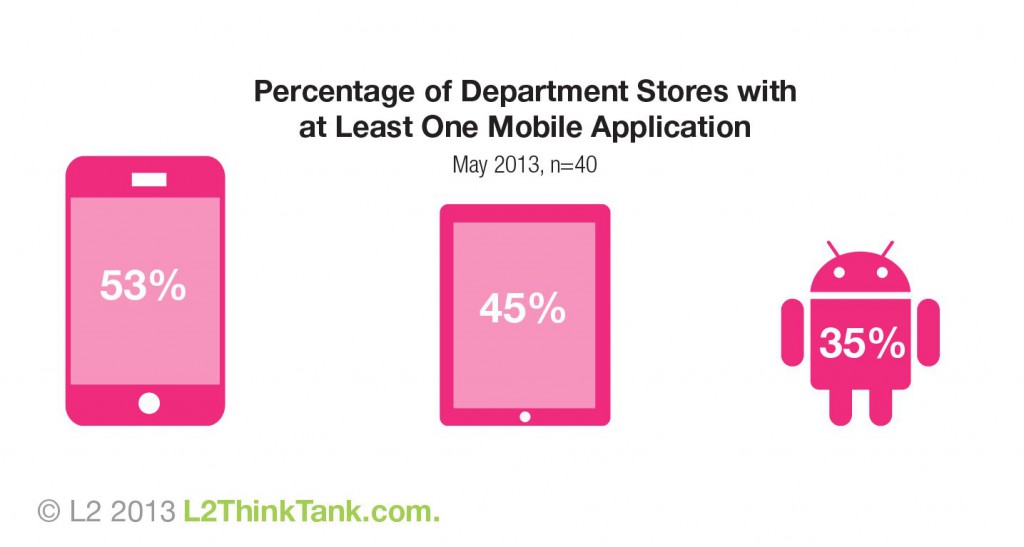 According to the L2 study, 58-percent of department store sites are actually mobile-optimized, with an additional 18-percent having built-in HTML5.  Considering that mobile influence on in-store sales is estimated to grow from $158 billion in 2012 to $689 billion in 2016, it's no wonder that optimizing a brand's mobile presence is no longer an option or "nice to have."
Which is why the hyphenated CMO/CIO is increasingly, a retailer's most strategic hire, those with a fluency in all things digital. A recent piece in Women's Wear Daily only underscored that fact, saying that, "gone are the days when CMO's focused mainly on booking space for TV or print ads and promotional flyers. Now their reach stretches across all aspects of a brand, from marketing to digital platforms to in-store technologies" ("The CMO's Changing Role," WWD 6/17/13.)
Guy Kawasaki, author, entrepreneur, and advisor, is perhaps Silicon Valley's most famous motivational speaker, traveling the world to evangelize about the power of brand "enchantment." At this year's Innovate conference, he made it clear that today's marketing is deeper and more complex than ever before, and social media continues to be paramount.
"Today, Marketing 2.0 is bottom up, it's social media. 'Lonelyboy15' could be the person who makes your brand a success. You have to spread a lot of seeds and remember that even the nobodies are somebodies in digital marketing. Everyone is an influencer on some level."
With mobile applications growing exponentially, and a customer even more savvy and mysterious in how, why, and when they make buying decisions, it's clear that customer experience management tools will only become more critical as a marketers most important tool for monitoring the health and relevance of their brand.
>> Read more on L2's Digital IQ Index: Department Stores.
>> Read "The CMO's Changing World" in WWD.
>> Learn about SDL and Global Customer Experience Management.
Related posts: