the Evolutionary Shopper |
WHAT THEY'RE DOING NOW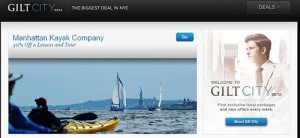 Gilting the Lily: Luxury Flashsite Goes Local with Gilt | City
Just when you thought that luxury flash shopping site Gilt.com could go no further, they have.
The dedicated website — www.giltcity.com — touts that they have "combed through hundreds of neighborhoods, countless things to do and boiled it all down to the most sought-after experiences and services just for you."
For now Giltcity only offers discounted "experiences and services" in New York, Boston, Los Angeles and San Francisco — not including all those big Kahuna experiences at major resorts and hotels they offer on Jetsetter.
So why go local? Probably because while they're not making a huge profit off these smaller merchants, the potential, once the concept is rolled out to other cities, is worthwhile.
Add to this the fact that consumer trends show that "shopping local" is proving to have staying power in these dark days of dollar-clenching, such that even luxury consumers are finding ways to enjoy a luxe life closer to home.
Giltcity will no doubt be expanded into social networking and crowdsourcing, with the potential to become a kind of Daily Candy-meets-Facebook-meets-"Haulers" (shoppers who video blog about their shopping finds.)
Related posts: