In Conversation |
Thought Leaders and Iconoclasts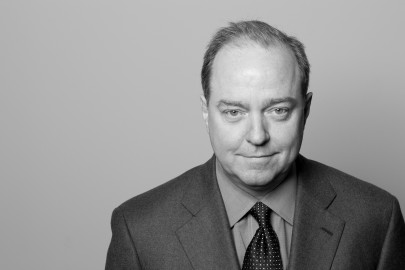 For Architect Jeffrey Hutchison, Storytelling is the Soul of 'Tailored Retail'
Retail design has gone through a seismic shift in both purpose and value. Before, the store's purpose was more about the product than the presentation, and while some luxury department stores played up movie palace-style deco splendor others just relied on good old-fashioned salesmanship and signage.
That started to change, however, with designer retail: the createurs and marketing geniuses who created a cult of personality, and knew that the store must be a transformative experience: a place in which to dazzle the customer and frame the product in environments that are discreetly rather than overtly commercial.
For twenty-five years, award-winning architect and designer Jeffrey Hutchison and Associates have masterminded some of the world's most stunning retail environments including Saks Fifth Avenue, Barneys New York, Shinsegae department stores in Korea, and Mexico's stunning Casa Palacios.
The design firm's work is now highlighted in a new, self-published book, Tailored Retail, and we asked firm founder Jeffrey Hutchison to share his thoughts on his twenty-five year career, and the evolution of modern retail.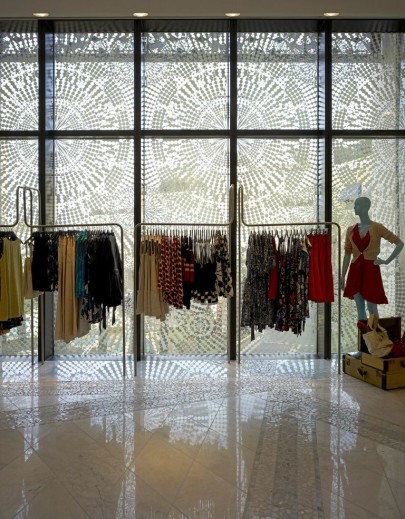 BERTRAND PELLEGRIN: Consider the retail landscape even 25 years ago. How do you feel the retail experience has evolved in terms of design and the evolution of the store's purpose? 
JEFFREY HUTCHISON: When I first started designing retail, most fashion brands were sold only in department stores. Only very few designers, such as Ralph Lauren, had their own retail spaces. Today, almost every fashion brand has a store, or a fleet of stores. When I started in the industry, the terminology "flagship" was accurate because there were very few, and today almost every store that is built is classified a "flagship". All of this is to say that retail has evolved over the years, focused mainly on size and reach. Most fashion companies still believe that bigger is better, which is not always the case. Going forward, I believe this will change dramatically. Stores will become more like showrooms instead of warehouses. Retailers will need to evolve into better "story-tellers" to communicate a clear message to their customers.
Your projects span the globe. I love working on projects in Asia because there's an entirely different style vernacular and openness to experimentation. How did some of the Shinsegae projects allow you to experiment with space design and merchandising?
Shinsegae has been, and continues to be, a great client who is very supportive of new ideas and direction. When they first approached me about designing a project, they wanted me to design a new luxury men's area in their Gangnam store. After I visited the store and met with their management, it was clear to me that Shinsegae needed to create a stronger visual identity for themselves, instead of relying solely on the strength of the brands they sell. In other words, they needed to be the brand. We achieved that in our design and in every subsequent project we have designed for them.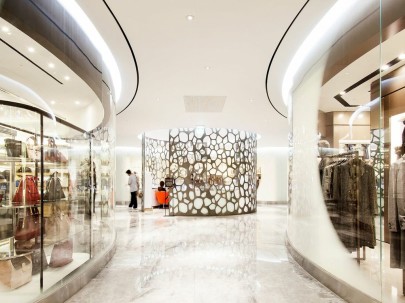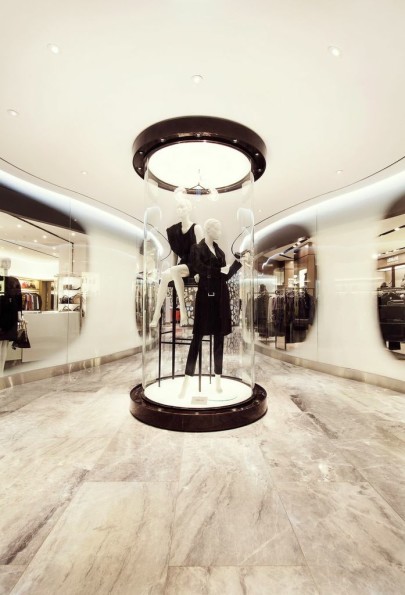 Boon the Shop is a concept store developed by Korea's Shinsegae department store. Here, an interior view of the women's floor at Shinsegae's Boon the Shop features futuristic fixtures and design elements that resonate with the brand's character.
The Casa Palacio project in particular is very much about the juxtaposition of inside and outside, drawing the customer through a sophisticated series of spaces. What was the client's brief on that project and how did you decide to address it with the design? 
Casa Palacio had one existing store, which was designed and merchandised, by product classification. It had no specific personality. The client's brief was very simple: they wanted their customers to "dream". I immediately connected with this idea because dreams are all about telling stories and transporting us to another place or period in life. When one enters the new Casa Palacio store in Mexico City, they are immediately transported to another place. They can envision themselves "living" in the environments we created and surrounded with the products that are showcased. The customer response to this particular project has been amazing.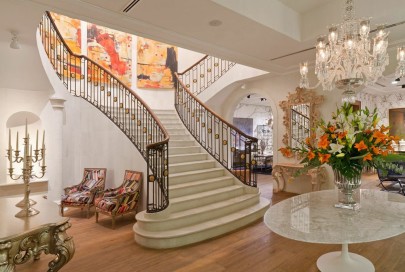 The lavish interiors of Mexico City's Casa Palacio was built around the idea of rooms, inviting the shopper to wander through mis-en-scenes rather than traditional retail displays.  
With luxury retail in particular, there is always the challenge of creating unique opportunities for display and product storytelling. Talk to me about your firm's approach with fixtures and floor pieces.
I believe the entire composition of a design – from the big idea down to the smallest detail – has to reinforce the story that we are trying to communicate to the customer. Fixtures and floor pieces are an integral component to developing the story. Sometimes they are designed to be more in the background and not overwhelm the product, other times they are designed to be very focal and dominant. For example, for the Barneys Chicago project, we designed a beautiful women's designer hang rack, that is made of bent blackened steel plates and stainless steel rods which feels very sculptural. This piece has a lot of personality but it still supports the product.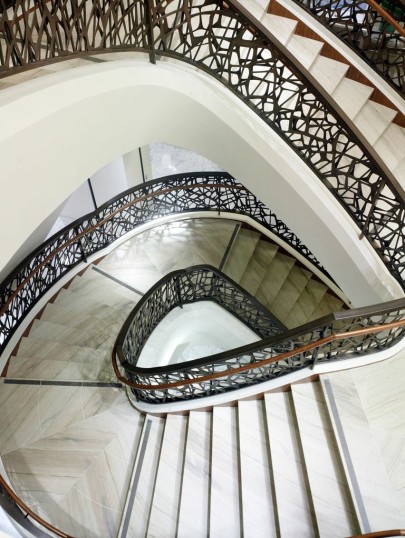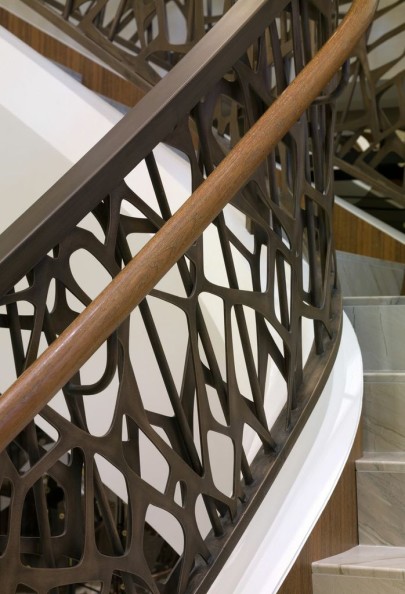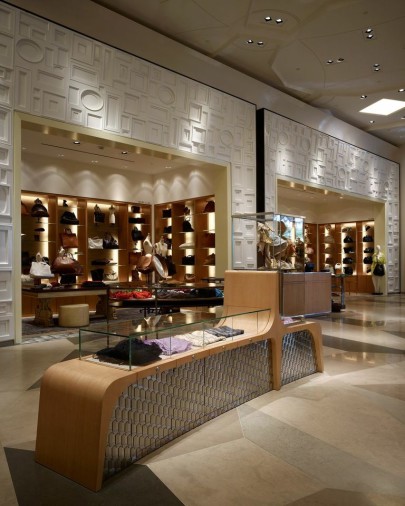 Jeffrey Hutchison and Associates have been responsible for the design of several Barneys New York stores.  Volume and texture play themselves out in such elements as a dramatic staircase, bespoke fixturing, and a gallery concept that has now become a retail trademark for the brand.
What really stands out about your firm's work is the almost extravagant use of space. Where the pragmatist would draw the customer solely to the product, you use texture, volume, and sculptural elements to broaden the context of the brand. Does every client agree with such a strategy? 
We always design a store with the main goal of it being financially successful. Our clients come to us because they know we push the envelope, but in a very intelligent way.  We are always looking for the means to create the unexpected, and delivering a sense of surprise to the customer, which we believe will bring them back again and again. Sometimes these unexpected surprises take shape in texture, art and space. The great thing about retail design is you never know where the next surprise will be.
We are so used to the big, bold, highly-designed flagship store that sometimes we forget that simplicity and scale can be powerful even in smaller, more compact experiences. Places that are plainspoken but elegant. Is there a store in the world that has influenced you in this way?
I remember walking into the Linda Dresner store on Park Avenue back in the 80s and I was instantly hit with the idea that architecture, art and fashion could all live together in one small space. That level of elegance is hardly ever achieved even to this day. That is one of the reasons why I love working in many different scales: from small boutiques to large department stores.
Related posts: