Retail By Design |
The Brand Experience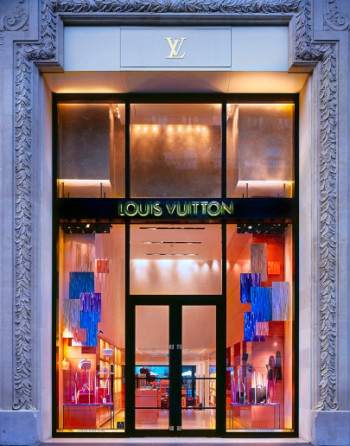 Designing Desire: Photographer David Cardelús Captures the Power of Architecture in Retail Design
Brands spend top dollar on store design because it is perhaps the most visceral way to engage the consumer – more than print, digital, or any other form of communications. "You're trying to create desire from the very first moment a person walks in," says Peter Marino, the bold and brash go-to designer for Chanel, Dior, and Louis Vuitton. "You're trying to make them buy everything in the store."
It was only with the relatively recent revolution in luxury retail that we began to see stores designed not just as backdrops for the goods they sold, but as critical conveyors of the brand experience.
It's why Marino pretty much has a monopoly when it comes the design of the world's top luxury stores.
Photographer David Cardelús spent several years with Marino's design firm documenting how a brand is translated into hard and soft surfaces. Since then he has gone on to create his own firm specializing in a broad range of architectural photography, but it's still retail design in particular that fascinates him.
He shared with us his thoughts about architecture, the brand experience, and designing desire.
"As a photographer, you have to be completely consistent with both the architect's intent and the spirit of the brand. Architectural photography is a matter of persuasion and this is especially true for retail architecture because you have to clearly communicate in images the proper emotions."
David carefully explores these retail projects to assess how to best interpret the language of materials and hard structure.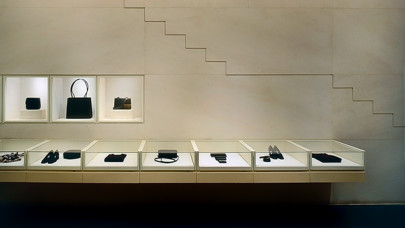 Luxury brands typically favor stark minimalism in order to showcase their fashion collections with little distraction. For Cardelús, it offers the unique challenge of composing images that make subtle reference to the brand's overarching identity through light, color, and texture. From top: Armani, Louis Vuitton, and Dior.
"My job is to highlight how the architect answered a challenge, and translated the brand's corporate identity into a unique environment that stimulates and drives the shopper experience."
But there are some brands that intrinsically possess the visual rhythm and purity necessary in order to be iconic. The architect removes rather than add to what's already there (to echo the immortal words of Chanel.)
"Of all the brand's I've photographed, I think it is Chanel that fascinates me the most. The simple, graphic beauty is almost abstract, with all of those perfectly balanced black rectangles. It's design that is elegant in its simplicity."
Chanel is one of the few global brands that has required little engineering when it comes to retail design. "It's design that is elegant in its simplicity."
David's photographs of the Els Encants market in Barcelona juxtaposes the use of materials and captures the buildings almost startling appearance, like an explosion of light. The building was designed by local architectural firm b720.
When facing the challenging of photographing the post-modern Las Arenas shopping mall – also in Barcelona – David followed the architect's intent. "I knew that trying to ignore Richard Rogers' style marks would have been not only futile, but counterproductive." The jukebox-like structure uses color and volume to draw shoppers throughout the space.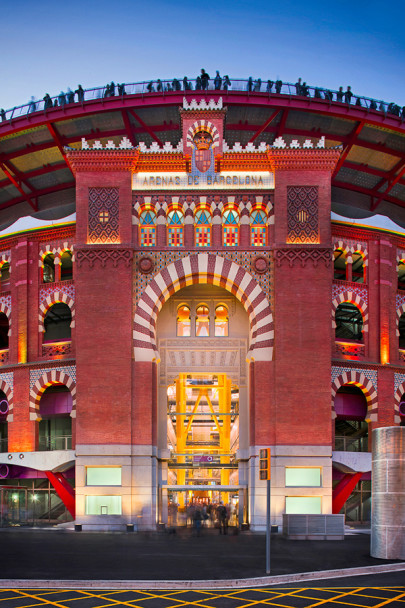 Richard Rogers' Las Arenas Shopping Mall in Barcelona is captured in all its postmodern glory by David Cardelus. "To ignore Richard Rogers' style marks would have been not only futile, but counterproductive." 
"A great store is not just a shell, even the merchandise displays must be designed to cleave to the architect's intent and the brand's character. When I photographed the Zegna store in Lisbon, I needed to plan my shots in order to showcase how the architecture and merchandise harmonized in creating a distinct brand experience."
In medieval times, the cathedral instilled a sense of awe and commanded devotion. Likewise, the store should make us want to worship at the altar of the brand promise and, as Marino so delicately stated, "make them buy everything in the store."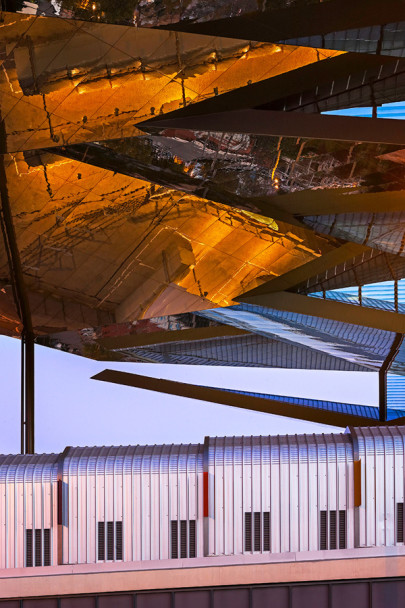 Two views of the El Encants flea market in Barcelona, with its new principal structure designed by b720. The use of polished aluminum and soaring panels is photographed as though the building were about to take flight.
For David, capturing that emotional experience comes down to the right composition. "I look for the intersection of light, form, and color. The organic compositions of these elements really tell the story of what the architect was trying to achieve."
See more of David's work at http://www.davidcardelus.com. Follow him on twitter. 
Related posts: