in conversation |
THOUGHT LEADERS AND ICONOCLASTS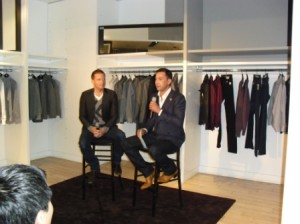 For Designer Simon Spurr, Modernism Begins with Tailored Classics
At last year's New York fashion week, I received a last-minute invite to Simon Spurr's presentation and was immediately smitten by the designer's fresh take on modern menswear. The SS10 collection featured soft pinks and blues, with boys who seemed to be channeling Duran Duran on vacation in the Hamptons.
Keep in mind that September 2009 — when the spring collections were shown – was still very much the dark days of a global recession, and most people in the fashion industry weren't feeling too cheerful about retail.
But here was someone who clearly had brought freshness to men's wear, such that even Anna Wintour herself came to see Spurr's debut.
Spurr's really only been in the game for a short time. In 2006 he launched his own contemporary menswear line, SPURR, with beautiful denims and accessories, and then last year's highly acclaimed brand, SIMON SPURR.
He graduated from Middlesex University and was quickly recruited to design for Yves Saint Laurent — a personal favorite of mine, so it's no wonder I found myself gravitating towards his clothes. Later he headed menswear for ck Calvin Klein, and then gave Ralph Lauren the edge he needed as design director for the brand's Purple Label and Black Label.
It's because of designers like Spurr that menswear suddenly feels relevant and right on target these days. Not since Stefano Pilati has there been a designer who seems to really understand that great menswear doesn't need to be a cartoon of manhood – whether the sissified loucheness of so-called contemporary designer sportswear or the staid, bulletproof suits that fill the racks of so many department stores today.
I interviewed Spurr at an intimate gathering on the fifth floor of the Saks Fifth Avenue Men's Store, a showcase for his second collection for SIMON SPURR. What follows is an edited transcript of our conversation. To watch a video of the entire interview, click here. Special thanks to Kenneth Leung at Cisco Systems.

BP: What would you say is the essence of the SIMON SPURR collection?
SS: SIMON SPURR is really an evolution, it's an aesthetic from my own DNA, so what I was attempting to achieve with the A/W collection and with spring was a British aesthetic. I've been in America for 11 years, I've worked for European and American brands, and so a lot of my reference points are from classics and authentic vintage pieces, I don't design for the sake of design. [It] can even come from someone I see on the street or art of architecture,
BP: So are you a fan of "Mad Men" then?
SS: I do like mad men […] I'm heavily rooted in the 60's, for me that is one of the last decades where men really took care of their appearance.  You know if I had a magic wand and a time machine I'd be 22 in 1964.
BP: You don't see a lot of big bold advertising; Spurr seems to be very much about word of mouth.
SS: It's very difficult when you break away from that corporate structure, such as an industry giant like Ralph Lauren, they have a big PR department. For me, I don't have that advertising budget, so it is word of mouth, it's blogging, its embracing social media, and it's collaborations with people like Cisco [Systems] This season we had the show streaming live in the Saks Fifth Avenue windows in New York. It's about building partnerships and reaching out to the consumer and explaining what goes into the product and why its priced the way it is and what you're getting for your money, and just getting that brand awareness out there.
BP: This was one of the few men's presentations where Anna Wintour actually came out to see a men's show.
SS: Yes, last year I was inducted into the CFDA and I was very lucky enough to meet Anna and we developed a little friendship —
BP: Now, I don't need to know everything!
SS: (laughter) I don't know if it's just a Brit to a Brit, I think she saw longevity with the brand. I know that [she's] gotten behind some brands before that have fallen, so it's nice. She doesn't go to men's shows, so the fact that she came to the first one and then came a couple of weeks ago to the show in New York, it's a huge brand endorsement and it makes people sit up and take notice when Anna sitting in the front row.
BP: Did it make you feel differently about yourself, as a designer?
SS: A little bit but, you know, even with Anna I'm not that star-struck. So she's always been a very down to earth person with me, so it was amazing to have her there, she didn't confirm that she was coming she just walked in and sat down, she was like the first one to sit down and was like' ok I'm ready let's get the show started.'
BP: You've learned a lot from the people you've worked with – certainly from working at Yves Saint Laurent, certainly from working at Ralph Lauren… we see the details of great tailoring here. That seems to be a hallmark of what you're trying to do: great classic menswear.
SS: You know I've matured. When I came to work for Calvin Klein in New York in 2001 I was wearing Albino python snakeskin boots, jeans, a ripped Harley-Davidson t-shirt and Mohawk mullet.
BP: Sounds just like Calvin Klein!
SS: Calvin was like: who's that? So yeah I've smartened up but there is a British aesthetic and reference points and it's a definitely a more polished vibe compared to SPURR which is definitely more street savvy.

BP: It's also the kind of clothing that a lot of people could wear, it's "approachable".
SS: I think there's a really fine line when you're designing a collection, ultimately the Saks consumer for example, is my target. If he buys the line then it makes my job worthwhile. So how do you balance that? You have to be contemporary, you have to current, and you have to be new. But it also has to be wearable, as you said, 'approachable.' I've never been a designer who places things in places here they don't need to be, you know the kitchen sink approach. There are designers who do that and they do it very well but there's also a balance.
BP: If you had to determine a must-have in your collection, what would it be?
SS: It would be a three-piece suit actually. You can break it apart, you can wear the jacket as I am today, or you can do the full Monty and do the "Thomas Crown Affair."  I do a lot of double-breasted jackets as well. There's been the general misconception that that is your father's silhouette or your grandfather's silhouette but proportion is a big thing for me and by making it a little shorter — not too short, I haven't really embraced the short pant thing, nothing wrong with it— you strike a balance. That's what I learned from [my] mentors. Hedi [Slimane] at Saint Laurent would say: I want to move that belt loop three millimeters. Hedi was very much about proportion and a very tight, bold color palette. Calvin Klein was a lot more of a purist approach so they would strip it back to its barest essentials and keep it clean. Whereas Ralph was really about building the brand. Ralph Lauren is really a great school and a lot of great American designers were schooled there, but sometimes it could get a little repetitive. But it was only when I stepped outside that I realized his genius. When you think of Purple Label you think of a black pinstriped suit; or Polo you think of a polo shirt, or a cashmere cable knit sweater worn on the shoulders.
BP: That's great branding.
SS: Exactly, the same way you that when you think of Burberry you think of the trench coat.  And for SPURR it's the denim and for SIMON SPUR it's the suit.
BP: Certainly last year for the spring collection everybody was talking about that pink suit, which, despite the fact that it was pink, it still looked really masculine very wearable — and I think tailoring certainly has a lot to do with that.
SS: Right. Just to give you an example, the guy in my head is a Jude Law type — very 60's and he's' driving in his MG convertible down Kings Road, and he pulls up to his little Mews house, and whether you're a guy or a girl, this guy has got style. I have always been more about style and less about fashion trend.  I acknowledge them but [fashion trends] are never a driving force behind designing a line.
Do you think there's a renaissance in menswear now?
Yeah, I think there's a backlash against products that are overdesigned, as well as the spotlight is shifting onto menswear; magazines are really starting to educate the consumer.
SIMON SPURR is exclusively available in San Francisco at Saks Fifth Avenue, The Men's Store. 220 Post street
San Francisco, CA 94108 (415) 986-4300; and at Bergdorf Goodman in New York 754 5th Ave
New York, NY 10019 (212) 753-7300.  Learn more about SPURR and SIMON SPURR at www.spurr.tv.
Related posts: