Bold Moves |
STRATEGY IN PERSPECTIVE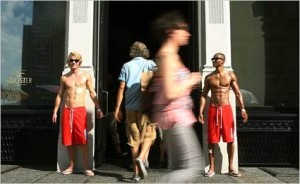 California Dreamin': Hollister Flagship Store Opens in Manhattan
(NEW YORK) – There are many places I'd rather be than the teeming streets of upper Broadway in SoHo on a Saturday afternoon, but that's where I found myself one day in late September swimming upstream through the crowds of outer-borough shoppers and tourists. To make it even less appealing, a steady drizzle had begun, the kind that doesn't yet warrant an umbrella but nevertheless leaves you feeling as though someone just sneezed on you.
At the juncture of Broadway and Houston is the monolithic Epic Hollister store. Opened in July 2009, the brand's newest and most outrageous flagship is indeed, epic. At 40,000 square feet over five floors, you wonder how on earth there can be enough merchandise to sell there. But that's never seemed to matter much to parent company Abercrombie and Fitch.
Hollister is Abercrombie and Fitch's younger brother, meant to appeal to the junior high school demographic on a tighter allowance, although the price points are hardly much less than A&F. It's always mystified me why they chose the name Hollister, a dusty little Agricultural town in Northern California that has little going for it besides being an epicenter for earthquakes.
But from looking at this theme park of a store you'd think Hollister was a surf town. Anchoring the door were two sets of smiling models in bathing suits and flip-flops with neat triangles of zinc oxide on their noses. The near pitch-black interior is designed to feel like a seaside boardwalk at dusk — or,for my old eyes — nightfall. In the inky gloom strategically placed spotlights reveal more teenage models. Giggling and chatting, they lean over the railings and pretend they know me. One goddess in string bikini top and short-shorts calls down, "Hey guy, wassup?" and I smile bashfully. Teenage boys huddle nearby, teasing one another and eyeing the golden girls on the landing above them.
The center of the store is a mock boardwalk anchored on each side by small fishing cabins with real windows, within which one can see the meticulously worn and frayed surf gear that is the brand's raison d'etre: polo shirts, t-shirts, shorts, bathing suits; all neatly stacked on rough-hewn tables and lit by vintage industrial lights and carefully concealed gobos. It's no secret that Abercrombie and Fitch is one of the most difficult manufacturing clients to work with. Their specifications for the wear, hand, and color of their garments is exacting, which is why many factories don't make the cut. I've met factory owners in Asia who tell horror stories of working with the brand.
Suddenly there is light. Surrounding a central staircase are soaring "windows" with live video of the Santa Monica seashore, the sun glinting off the ocean and surfers riding the waves. The New York shoppers stop and stare, as though for the first time in their urban lives, they see a golden seashore, sprinkled with  magical, bronzed creatures called Californians  who cavort in its diamond waters.
Like Ralph Lauren brands, Abercrombie and Fitch believes the only way to really translate it's brand is with overblown retail concepts although it's clear from observing those who shop there that indeed, this controlled environment makes ordinary clothing suddenly seem that much more enticing. As I stumbled through the dark and out into grey, drizzling rain, I felt a sad longing to return to California, although probably not this one.
To experience the store, explore the equally over-designed website, www.hcoridethewave.com.
Related posts: