Bold Moves |
Strategy in Perspective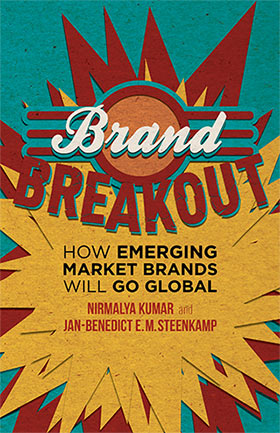 'Brand Breakout' offers Global Guide to Emerging Markets
In their new book, Brand Breakout: How Emerging Market Brands Will Go Global, authors Nirmalya Kumar and Jan-Benedict Steenkamp address many of the big elephants in the room regarding what it takes to build a global brand.
Brand Breakout is equal parts guide and cautionary tale for some of the world's leading brands, many of which still lack the foresight to prepare for a global marketplace. The future is now, one where emerging brands are moving faster and gaining ground on their more traditional forerunners.
Nevertheless, emerging markets – even China – still struggle with the core competencies that the West is well-known for. China, for one, has had a target on its back, not so much because it is the world's second largest consumer economy but because it has struggled to make a sizable dent with its own brands on foreign soil.
Remember Li Ning the supposed competitor to Nike? Probably not. After years of aggressive marketing in China, the sports shoe brand still hasn't managed to catch on with Chinese consumers, let alone anywhere else in the world.
We asked the book's co-author, Jan-Benedict Steenkamp to share his thoughts on why China, in order to be competitive, is still grappling with some critical core competencies, and why other emerging markets are forces to be reckoned with.
China needs to get it together. Period.
Production: "Too many Chinese companies are focused on manufacturing large quantities. Developing strong brands requires reorientation on creating value, rather than generating scale."
Marketing: "Creating strong brands that overseas consumers want requires requires "softer" brand building skills. They don't get it that strong brands have an emotional hold over and above any rational considerations related to quality."
IP protection: Investments in a brand – its logo, name, packaging, awareness, its innovations – cost a lot of money. Without strong IP protection, blatant copycatting is common."
Organization: "Many Chinese companies are hierarchical. Building strong brands requires creativity, breaking the rules, and being inspired by the marketplace."
Politics (still) Rules: In many Chinese companies, decisions are not only influenced by business considerations but by political considerations. It is obvious that political considerations – patronage, supporting goals of the Party or the government – are not conducive to building strong brands."
Creativity: "Chinese managers have to learn think more critically and creatively. Thinking differently is very hard when everything up to now has been about conforming, herding, and group thinking. Even the word 'critical' has some negative connotations in contemporary Chinese language that it doesn't have in English."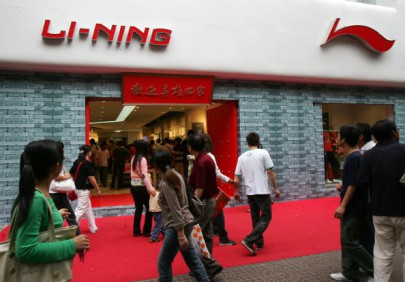 That Familar Swoosh: China's Li-Ning brand had ambitions to be a global competitor to Nike. It still struggles with weak brand perception and strategy. "Creating strong brands that overseas consumers want requires 'softer' brand building skills," says the book's co-author.
To be truly global, a brand must be able to successfully perform on multiple playing fields. "A global brand is a brand that uses the same name and logo, has awareness, availability, and acceptance in multiple regions of the world, derives at least 5% of its sales from outside the home region, and is managed in an internationally coordinated manner," says Steenkamp.
"Many Western brands see themselves as the only global brands and only eye each other as competitors.They tend to ignore, if not out rightly deride, the new competition from emerging market companies. In the past, companies ranging from RCA, Chrysler, and American Motors to Philips Electronics, Thomson, and Peugeot were caught napping while Japanese and Korean brands entered the global marketplace. Where are these companies now? They are either bankrupt or relegated to a minor position in markets they once dominated. There is less room for complacency and surprise than ever before."
From Jaguar to IBM, foreign companies are picking up some of the world's most iconic brands. But can they be successful in managing their equity?
Learn From the Past: "Many acquired brands may not have been doing too well. Clearly, they did something wrong, either in production, marketing, or something else. Emerging market managers can bring a fresh perspective and new ideas. These companies buy to gain complementary competencies — assets such as technologies, products, brands or distribution networks and capabilities like new business models and marketing and innovation skills — the value of which outweighs the high operating costs and stagnant domestic market," says Steenkamp.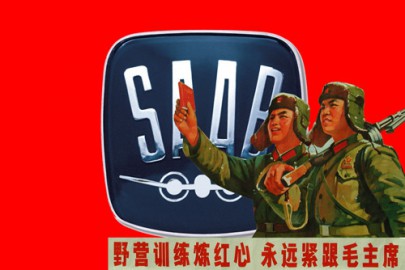 Red Scare: Chinese investors have been aggressive in purchasing stakes in foreign brands. For SAAB just as for countless other iconic brands, this can be an opportunity for new vision and growth — provided the right strategy is in place.
Don't Risk Losing Talent: "Cultural and language differences mean that close involvement can easily lead to dissatisfaction and departure of good people. Remember that good people have options, bad people do not. Thus, you run the risk of chasing away those very people you like to retain."
Consumers still don't believe in "Made in USA" (but say they do.)
"I think most people will prefer US-made products given everything else equal, but by that I mean equal quality, price, styling, availability, or prestige," says Steenkamp. "However, these conditions are often not met, at least not in the eyes of many U.S. consumers. For many Americans, Japanese and Korean cars are of better perceived quality, provide more value-for-money, or people like the styling more. Similarly, in the luxury segment, Cadillac is no match for Mercedes, BMW, or Lexus. In short, these "Made in USA" campaigns are good PR but their actual effect is minimal."

Steenkamp suggests that China is well-positioned to be a consumer electronics leader, and that inevitably their own brands will begin hitting the market more aggressively.
Nevermind Apple. Don't underestimate China's power in consumer electronics.
"China is already manufacturing most of the world's consumer electronics. They have the manufacturing infrastructure and the suppliers. Companies like Lenova, Huawei, and ZTE have started to sell their brands in China and elsewhere. This category offers great potential because brand loyalty is only as strong as the latest innovation (Apple being an exception). Remember that a few years ago, Nokia and Blackberry were dominating the market, and before them, Motorola and Ericsson. Where are they now?"
Jan-Benedict Steenkamp is C. Knox Massey Distinguished Professor of Marketing and Marketing Area Chair at Kenan-Flager Business School, University of North Carolina.
Related posts: