Retail by Design |
The Brand Experience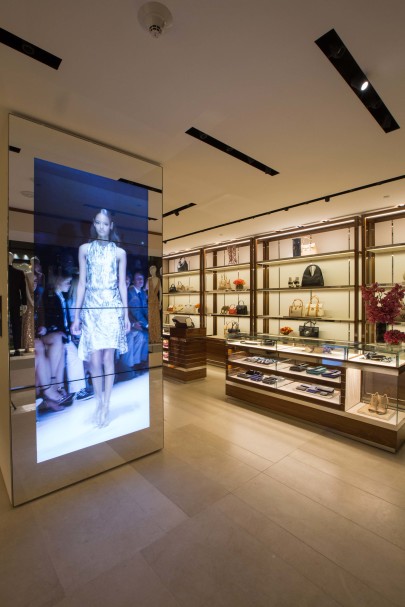 At Salvatore Ferragamo, luxurious palette of neutrals renders store as modernist palazzo
A well-designed store should constantly beckon us to come closer. It should invite discovery but not conceal what is being offered.  A simple idea but one not always demonstrated at many stores. Salvatore Ferragamo's recent store renovations offer an excellent example of this concept with spaces that are luxurious yet understated.
Since 2012 the Salvatore Ferragamo brand has been slowly rolling out its new design strategy to all of its fifty global stores, and this month the company unveiled a new San Francisco store that reveals a more sensuous and modern interpretation of the legendary brand.
The store, which relocated from Geary Street opposite Union Square to its new location on Post Street, takes advantage of the building's historic façade and balances it with a sleekly modern interior that is rich in marbles, mirrors, and suede. It now joins some of the City's most important luxury purveyors including Graaf, Bulgari, Prada, and Burberry.
The new location is expansive: 11,000 square feet with an entire second floor devoted to men's ready-to-wear, accessories, and shoes. Men's has been a key directive for the brand for some time now, and here it's clear they were certain in making a bold, masculine statement with a penthouse-like environment that is comfortably removed from women's wear down below — yet thanks to the stunning staircase, feels open and invites a natural flow between the two floors.
Below are some of the other design features that we feel make the store fresh, modern, and approachable.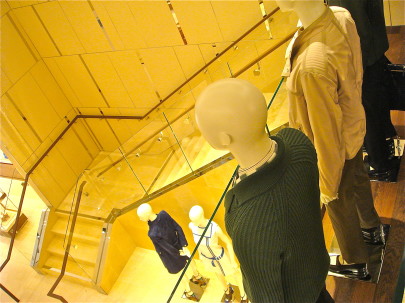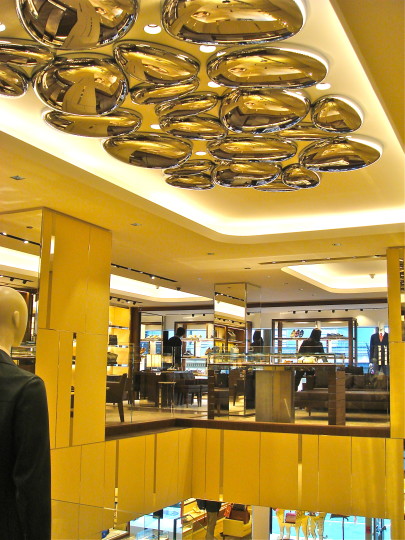 A great staircase is always a good excuse to further the customer experience and heighten the drama of a space, and here it does just that. The eye is drawn skyward towards a specially commissioned ceiling sculpture by Ross Lovegrove for Artemide, featuring a cluster of organic chrome spheres.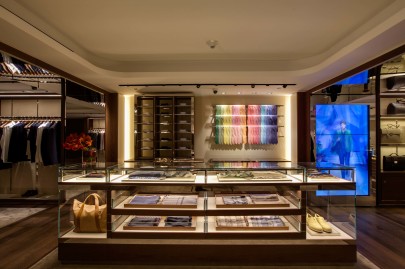 Throughout the store, metal framing is a soft, pinkish gold (press materials emphasize "champagne-colored"), adding depth and dimension to adjoining mirrors, which in some cases are backed with video screens, offering compelling visuals that subtly demarcate merchandise "rooms."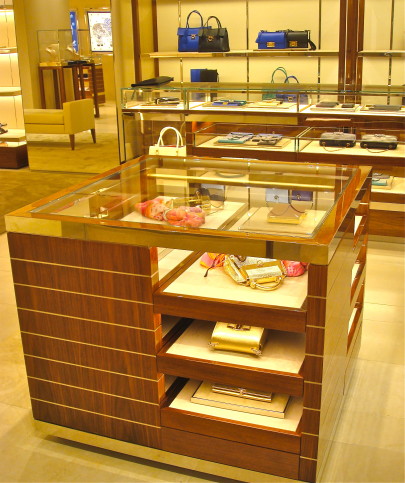 Custom fixtures are richly rendered in walnut, marble, leather and suede, framing purses, jewelry, and scarves like fine art pieces. Wall displays also feature individual jewel boxes to highlight key collection pieces.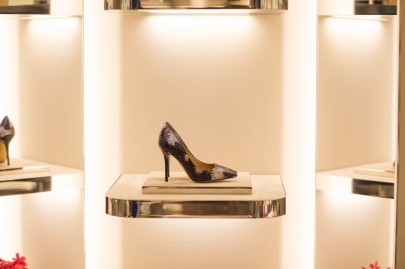 Real suede is used lavishly throughout the store, wrapping shelving, skinning walls and display trays, and bringing a soft, tactile quality to the store environment that naturally harkens to the brand's beginnings as shoemaker to the stars.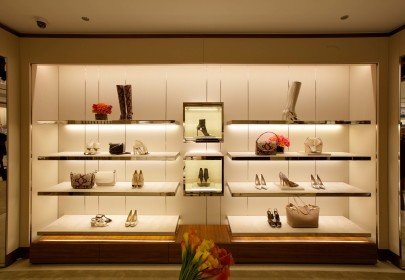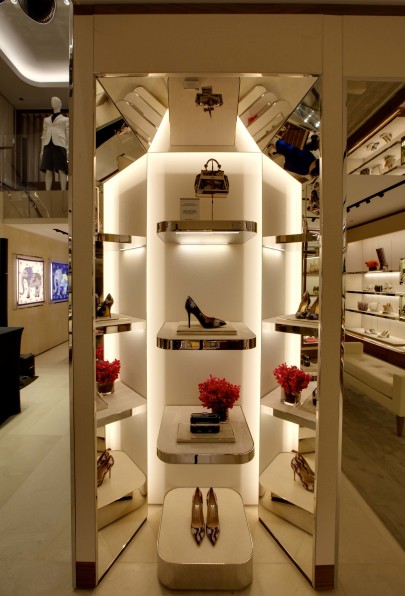 Of particular note is the use of concealed LED lighting, which "floats" shelves and delivers superb lighting on store merchandise. While the cost of LED lighting has decreased dramatically over the years, too many stores do not take advantage of the versatility of LED in terms of energy efficiency and accuracy in how merchandise color palettes are expressed.
The San Francisco Salvatore Ferragamo boutique is located at 236 Post Street near Union Square. www.ferragamo.com.
Related posts: