Bold Moves |
Strategy in Perspective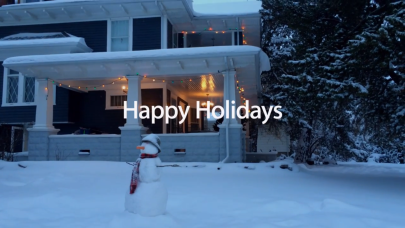 Apple's Holiday Weeper Leaves Us All Wet (And not in a good way)
A moody teenager stares out the window of his family's station wagon as it makes its way through a snowbound suburban neighborhood. Like so many self-absorbed Millenials, he's seemingly more interested in his cellphone than his multi-generation family gathered together for Christmas.
This is the commercial everyone is talking about this season, and if they're not, it's because they didn't watch it long enough to realize it was an Apple commercial. Forsaking their famous voice-over style and white minimalism, the brand delivered its own take on Norman Rockwell's America.
Titled "Misunderstood,"  the spot allows us to discover that the awkward teen, who appears to be perpetually brooding and lost in his phone, is in fact using the device to record the family's bittersweet moments together.  At the beginning of the clip he is "misunderstood" — even by us, the viewer – but by the end, he surprises us with his little home movie. Thanks to Apple, he is understood.
A former Apple employee, who has since left the company, tells me his thoughts on Apple's strategy.
"This is the commercial they've always wanted to make, but it was never the right time," says my source, who, like most Apple employees, lives in fear of being found out as a snitch. "And certainly not under Steve [Jobs] would they have done it."
Indeed, this is an entirely uncharacteristic, unexpected commercial from Apple, and that's why so many people are talking about it.
There is not even the scantest bit of Apple's trademark Royal Blue. No Geniuses in blue t-shirts. In fact the film is bursting with all kinds of other colors. The clothes and furnishings we see throughout are all pinks, reds, greens, and purples. Framing it all is the pure white snow that gives the whole scene its Norman Rockwell innocence (and maybe it's touch of Apple, like the brand's usual, all-white limbo commercials.)
"Why didn't they line something like this up for the Super Bowl?" I asked. "Because they felt like they could tell a better story for Christmas," says my source. "Their strategy now is to remind the consumer of the brand as emotional enabler – thanks to the product."
Click here to watch the video.
Related posts: