Bold Moves |
STRATEGY IN PERSPECTIVE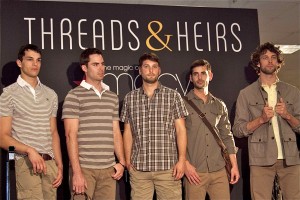 Macy's Teams With Ruffian to Create 'Threads & Heirs' – Designers Visit San Francisco for Launch Event
Models wearing pieces from Macy's Threads & Heirs Collection
(SAN FRANCISCO) — Not one to be left behind when it comes to collaborating with edgy designers, Macy's has partnered with New York's dynamic design duo Ruffian to create Threads & Heirs. The exclusive collection is only available at Macy's and will be followed with future collaborations from a different designer each season.

At last Thursday's store event, an eager crowd awaited the designer's arrival, not to mention the chance to see an attractive posse of models wearing the new collection.
While models strutted onto the stage, I chatted with the designers Brian Wolk and Claude Morais, an affable duo who clearly enjoy working together. "This collection was fun for us because we really were able to draw from what we love," said Wolk. "It's all about American classics, which I have always been fascinated with," said Morais, a native frenchman.

The designers — with their own award-winning collection called Ruffian — stayed true to their signature urban aesthetic, but folded in plenty of wearable basics that weren't so fashion-forward they'd scare away a Macy's customer. The collection is heavy on plaid shirts, gunmetal-grey tees and v-necks, and  my personal favorite — a wonderfully rumpled cotton utility jacket with a nicely tailored waist.
"Tailoring is one thing we can't compromise on," said Wolk."With this entire collection you'll notice that everything is slim cut, from the shirt to the jackets."
The limited-edition collection is priced between $24.99 – 99.99 making this one of the better values when it comes to designer collaboration collections. A second delivery of new items will arrive in stores later in the month.
After the presentation, the designers lingered behind and met with customers, many of whom knew the designers from their Ruffian collections. Those that didn't were nevertheless pleased with what they saw. "I'm getting the utility jacket for my boyfriend," said one female customer. "But if he doesn't wear it, I will."
Related posts: